Do you know what Unequal Appraisal is and how it can help you in your fight for fair taxes?
*Its ok! We didn't either at first! 🙂
Background of Unequal Appraisal
During the 1997 legislative session, major changes were made to the Texas Property Tax Code. One of the reforms was the right to appeal property taxes based on unequal appraisal. Harris County Appraisal District chose to VIGOROUSLY OPPOSE this provision of the tax code. (SHOCKER!)
Appealing based on unequal appraisal is BENEFICIAL because it allows an owner to reduce the taxes even if the property is assessed for much less than the market value.
In the past, appraisal districts wanted a VERY COMPLICATED process to hear cases of unequal appraisal which was EXTREMELY EXPENSIVE to prepare. The new approach also made judicial appeals financially feasible and effective.
Why Aren't Properties Assessed Equally to Begin With?
You may be wondering why properties aren't assessed equally.
Some reasons include:
 Data errors
 Focusing only on recent sales
VARIATIONS in the informal and ARB hearings.
Since the appraisal district tracks over 1.4 million real property accounts in Harris County, it is unrealistic to expect all of the data to be accurate.
At this point, you are probably thinking "This sounds great! How can I use it to my advantage?"
First and foremost: File An Appeal Annually.
According to the Texas Comptroller, last year 2/3 of appeals were successful. 
**On the Notice of Protest form, you must select a reason(s) for your appeal. Be sure to check the boxes for both market value and unequal appraisal.
Here's what to do to prepare for your hearing:
Prepare for your hearing(s) by gathering the comparable home sales in your area. If you own a commercial property, you will need to create an income analysis. In addition, review the assessment for your property as well as the assessments for competing or similar properties.
Consider the level of assessment for approximately 5 to 15 similar properties and summarize the data in a spreadsheet.
To determine negotiating parameters, begin with setting the lower limit (of assessed value) that is reasonable to request and conclude by setting the highest level of assessment you will accept for the year under appeal (without continuing the appeal process to the ARB and judicial appeal level).
You should present information on both market value and unequal appraisal at the informal, and, if necessary, ARB hearings.
*Here is a link for a Universal Protest Form.*
Are you a victim of unequal appraisal? LET US KNOW IN THE COMMENTS BELOW.  Also, check out our PROPERTY FAIRNESS CHECKER! It's FREE!
Harris County Appraisal District (HCAD) is over-taxing flooded property owners by 50 to 100%.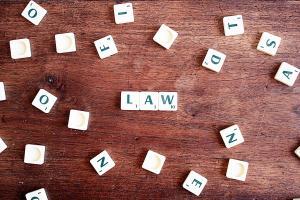 HCAD is NOT valuing these flooded properties accurately.
They are not following mandatory requirements of the Tax Code and the Texas Department of Licensing and Regulation.
HCAD and the Appraisal Review Board (ARB) are not considering market evidence in valuing flooded homes, grossly overtaxing Texans at their time of greatest need. 
Both HCAD and the ARB are overtly ignoring the law.  HCAD appraisers are testifying that the HCAD has not developed an opinion of market value.  Despite evidence from the HCAD appraiser that their valuation does not meet basic requirements, ARB panels are ratifying the HCAD value in a breath-taking display of raw power and force.
The appraisal district and the ARB appear to be ignoring all evidence at hearings.  In our opinion, it is clear the process is a sham after 1 or 2 hearings.
The ARB has also imposed a rule they will not consider any evidence of market value unless the property owner provides bids of repair costs.
This requirement violates the law and is denying owners of flooded properties a fair hearing.
Over the past 2 days, Patrick O'Connor, President of O'Connor, attended the HCAD disaster reappraisals on behalf of some of our clients alongside our team of tax agents. He was there to testify as an appraiser as well as act as an agent. We filmed at least 15 hearings believing upfront (and as it turned out, correctly) that HCAD would not act according to the law.  The recording of one of the hearings is available for you here.
Ten plus O'Connor team members have attended the disaster reappraisal hearings, and to a person, each is stunned HCAD and the ARB are so boldly ignoring the law, and over-taxing flooded property owners by 50 to 100%.  If HCAD were a private business, this would be price gouging.
For your reference, Texas Tax Code Sec. 23.02.  REAPPRAISAL OF PROPERTY DAMAGED IN DISASTER AREA. (a) The governing body of a taxing unit that is located partly or entirely inside an area declared to be a disaster area by the governor may authorize reappraisal of all property damaged in the disaster at its market value immediately after the disaster.
Pay also special attention to Sections 23.01 APPRAISALS GENERALLY; Sec. 23.0101. CONSIDERATION OF ALTERNATE APPRAISAL METHODS; and Sec. 23.001 COST METHOD OF APPRAISAL.
HCAD's position is to take the property value as of January 1, 2017 less the costs to repair. They are not using a recognized method to value flooded properties.
Tax Code Sec. 23.001 COST METHOD OF APPRAISAL,  requires the appraisal district (CAD) shall (emphasis added) make any appropriate adjustment for physical, functional, or economic obsolescence. Economic obsolescence occurs when the value of a property decreases due to external factors in the neighborhood or immediate area.
Wouldn't you consider the flooding of thousands of homes and parts of town to be economic obsolescence?
The comparable sales of flooded properties in those areas certainly support economic obsolescence, yet HCAD is absolutely ignoring that factor.
Comment below and let us know what you think. Are you as outraged as we are?
Have you ever wondered what happens AFTER you've filed your property tax appeal? How exactly does the hearing process work, and who makes the ultimate decision on value?
Here is a detailed explanation of WHY HCAD's current approach so WRONG. You can review the Tax Code and the Appraisal Standards to confirm for yourself.
In an effort to bring as many answers as possible to property owners, and be transparent regarding the property tax system, here's an inside look at an actual disaster re-appraisal hearing of a residential property flooded by Hurricane Harvey in Harris County, Texas.
Patrick O'Connor himself was representing this property in an effort to set the stage (and educate) the appraisal district. We have included the transcription below the video if you don't feel like watching the entire hearing.
*Fast-forward 2.5 minutes into the video to get to the juicy stuff!
Suggestion: you might want to print this to read offline.
Get Started Now and Enroll in the Property Tax Protection Program
| | |
| --- | --- |
| HCAD Appraiser: | Okay, so Panel, being as this is a disaster re-appraisal hearing, we did notate on our evidence that the property had about a half a foot of flooding, so we calculated that into the two story height of the building, which by our calculations, meant the percentage damage was twenty percent. We took that with the replacement costs new of the improvements at $1,214,629 … estimated the repair cost $242,926 … used that to come to our new calculated improvement value of $415,899 … which brought the … including the certified land value, to $640,774. |
| HCAD Appraiser: | Now, again, we didn't have any actuals, in terms of the repair costs, so we did have to estimate that based on our disaster calculation here at half a foot of flooding with two story height on this particular home which, again, brought to twenty percent. Now, again, I just want to stress that this is an estimate, because we don't have actuals for this particular home. |
| HCAD Appraiser: | That's where we got our overall value for $640,774 on this particular property. |
| ARB Member: | Any questions? Alright. Does anyone have any questions for the appraiser? |
| Pat O'Connor: | Yes, quite a few actually. |
| ARB Member: | Okay, go ahead. |
| Pat O'Connor: | Could you tell us about your licensing. Are you licensed as an appraiser? |
| HCAD Appraiser: | Yes. |
| Pat O'Connor: | Could you tell us about your licensing and training? |
| ARB Member: | Sir, we're gonna stick to the evidence that he presented. That's what you have questions to ask, okay. Is there anything in his testimony that you have questions about? We're not gonna get into his … his training, or his education, or his background. Alright? So, we're gonna stick to the evidence. If you have questions for that, you can proceed. If you don't, then we're ready for your testimony. |
| Pat O'Connor: | The tax code requires that you prepare an appraisal, a mass appraisal. If you're doing a mass … I'm not sure if you've done a mass appraisal or an individual appraisal, but if you're doing a mass appraisal, the code requires that you do a mass appraisal in compliance with standard 6. |
| Pat O'Connor: | I have a copy of Standard 6 here for everyone. |
| ARB Member: | Mr. Connor, I know these are special hearing, and I'm gonna give you the opportunity to present some evidence; but I'm gonna tell you something. We're not gonna have an hour and two-hour hearings on each one of these hearings. So, if you wanna give evidence, then we'll listen to it; but I'm gonna start holding the hearings to a certain time to get through the stack. Do we understand each other? |
| Pat O'Connor: | The first hearing to really get into this complex subject will take about an hour. I don't see… |
| ARB Member: | I'm not gonna listen to a hearing for an hour. I'm not. I'm not. |
| Pat O'Connor: | With all due respect, this is a completely new subject. |
| ARB Member: | I understand that, but it does not take an hour to do one hearing. |
| ARB Member: | Please proceed. |
| Pat O'Connor: | My team and I've spent five to ten thousand hours researching |
| ARB Member: | I understand, sir. I don't have the time to spend an hour on the hearing. I'm just telling you that we're not gonna do it. So, I suggest that you please do your pertinent information that you want us to hear, and then we'll proceed further. |
| Pat O'Connor: | Please explain, and this isn't between you and me. This is an issue that I have a concern that Harris County Appraisal District did not complete a mass appraisal. Just to be direct and private remains sort of neutral toned about it, and if you're not the right person to address this, I'd be happy for you to bring someone else in … |
| ARB Member: | Okay. Mr. O'Connor, I'm not going into this. I asked you if you had any questions for the appraiser with the evidence that he gives. Please ask those questions, and if you don't have any … I'm not gonna go through this. I'm not gonna go through all the tax code. He gave his presentation. I want you to give your presentation and your evidence. So, please proceed with that. |
| ARB Member: | I'm not going to … I'm not gonna spend an hour on this stuff. I'm not, so please proceed; and then if you're not happy with that, you can appeal. |
| Tonya Felix: | Ma'am the intention is not to spend an hour. Our intention is to present our evidence. It does pertain to the subject property. Initially, we would like to present … We are gonna take a little bit of time … The issues that we're gonna present up front, they apply to all of those properties, so we will… |
| ARB Member: | I'm not gonna talk about mass appraisals. We're talking about how the district … He gave his presentation … Please proceed. |
| Tonya Felix: | If a mass appraisal was used to come up with the value of the subject property, then it is relevant to this hearing. |
| ARB Member: | It's not. |
| Tonya Felix: | I'm a licensed attorney. I'm familiar with the tax code… |
| ARB Member: | That's fine. |
| Tonya Felix: | It is relevant, and the law says that we can protest, and we have the ability to present evidence relevant to the subject property. |
| ARB Member: | I am here. This panel is here, to hear your evidence on your properties, of the property, if it got flooded or damaged. That's what we're here for. |
| Tonya Felix: | And that is exactly what we are doing. |
| ARB Member: | But, I'm not gonna go through that, and so I'm just telling you right now we're not gonna do it. So, please proceed if you have any questions concerning his evidence that he testified to. Okay? Then, ask his questions. If not, proceed with your testimony and give us your evidence. |
| Pat O'Connor: | Please give an oral mass appraisal of how you value this property and other flood properties. |
| HCAD Appraiser: | Well, I get the question that you're trying to ask, in terms of normally how would we use mass appraisal to determine that; but what we did was, we have work-up that we had that was worked up in 2008 to come to … and I know you're familiar with this, so I know I'm not saying anything that you don't already know … |
| HCAD Appraiser: | We came to a general insurance report that we've used, and worked up back in 2008. In determining that, that's how we use this. So, that is our method in disaster reappraisal, for using mass appraisal, as you wanna call it. This is what we used to mass … use mass appraisal for all Mobile's properties. So, based on the story of the property, based on what we estimated the level of flooding to be, we came to a percentage that I went over in my disaster calculation. |
| Pat O'Connor: | The mass appraisal for the cost approach, of course, involves land value plus replacement costs. |
| HCAD Appraiser: | Not in terms, and since we're talking about the tax code, and specifically when it deals with disaster reappraisal, that has to do with improvement costs based on the level of damage at the time that the government declared that that was a disaster, on August 23. |
| HCAD Appraiser: | So, based on the factors of how much flooding it had, and the story, we come to a percentage that we calculate out, and that only has to deal with the improvements. |
| Pat O'Connor: | Since you're referencing the tax code, I'm familiar with that section. It's 23.02. |
| HCAD Appraiser: | That's what I said. I said… |
| ARB Member: | Okay. Gentlemen. I'm gonna state this. It's the last time I'm stating it. If you have specific questions about his evidence and testimony, as his questions. If not, proceed with your evidence and your testimony. I'm not gonna listen to this back and forth. |
| Pat O'Connor: | What … How did you estimate repair of costs? |
| HCAD Appraiser: | We estimated the repair costs, again, based on the story height and what we estimated to be the flood depth, and we came to a percentage that we calculated for the replacement cost |
| ARB Member: | And that was in his testimony. |
| HCAD Appraiser: | Which was in my testimony, again. |
| Pat O'Connor: | What's the data source? |
| HCAD Appraiser: | It was a general insurance report that we developed back in 2008. I'm saying the same things over and over. |
| Pat O'Connor: | And what type of repairs does it include? |
| ARB Member: | Mr. O'Connor… |
| Pat O'Connor: | It's a relevant question |
| HCAD Appraiser: | I've answered your question more than once. I said the feet of flooding… |
| ARB Member: | Mr. O'Connor… |
| HCAD Appraiser: | Combined with the story height gave us a percentage, an actual percentage damage. So, again, I'm referencing that these are estimated based on this specific information. We don't have actuals because we're not the property owner, so that's the same thing in terms of when we're estimating repair costs for if this house just experienced normal deterioration. If we don't have actuals, we have to use something to come to an estimated level. |
| HCAD Appraiser: | So, if you have actual repair costs, I would be more than happy to include that in the replacement cost in this building, but this is the way we have to do it. So, to answer your question in terms of how we came to mass appraisal, feet of flooding combined with the story height, gave us a percentage … estimated percentage damaged, which gave us our estimated replacement costs for this particular building, which we included with the certified land value; and yes, we can do that in the event of a disaster reappraisal. |
| Pat O'Connor: | Did you consider economic obsolescence or economic depreciation? |
| HCAD Appraiser: | I've answered the question. |
| ARB Member: | You have. |
| Pat O'Connor: | That's a different question. That's …. |
| ARB Member: | Mr. O'Connor |
| Pat O'Connor: | That's at the heart of the matter here, ma'am. |
| ARB Member: | No, no it isn't. |
| Pat O'Connor: | Yes ma'am, it is. |
| ARB Member: | No it isn't. If you wanna us estimates in testimony of what the damage was to your specific properties, we'll be happy to look at them; and we'll adjust accordingly, okay? But, we need that information. If the district doesn't have anything … I'm not speaking for them, but if they don't have anything … They gave us what they think the value should be. This is the sheet they gave us. They said that's what the value should be. Okay, I want to hear your evidence. I wanna see your evidence of what the cost to repair, or what the damage was to subject properties. |
| ARB Member: | That's what I'm here for. That's what this panel is here for, and that's how we're gonna proceed. |
| Pat O'Connor: | Okay. I'm happy to provide that, while I do want to protest in the strongest possible terms, the tax code does allow us to cross-examine. The issues aren't resolved, and this is a matter where … that is new to all of us … but, I will go ahead and present my evidence. |
| Pat O'Connor: | The first thing I will start with is information on the types of depreciation. There are three types of depreciation. Depreciation is part of the cost approach, and the three types of depreciation are … |
| Pat O'Connor: | Physical, which is a gradual wearing away of property. |
| Pat O'Connor: | Functional. An example of functional depreciation would be not having a bathroom that en keeps the house, or not having enough bathrooms in the house, includes not having air conditioning, having a torn ceiling tile. Those would be examples of functional depreciation. |
| Pat O'Connor: | Economic depreciation is also called external obsolescence. The terms are interchangeable, and it's a change in value from a source outside the property. So, if someone was underneath a landing flight near an airport, that house would be worth one that didn't have that impact. If someone lived next to a slaughtering house or another property, that would have an impact; and if you look at the issue of, is there an impact to buying a house on, effectively September 1, before it's even been dried out, 2017, there's a reasonable question as to whether or not there is a reduction on value. |
| Pat O'Connor: | We did that study in October and November of 2017. |
| ARB Member: | We need another copy. I think you might as well hand us all your evidence on this property at once. I'm not gonna piece meal it, so get all your evidence together for us. |
| Pat O'Connor: | Okay, but I would suggest this will make it harder to… |
| ARB Member: | You're supposed to do this before hearing. Reference of median … we need another copy. Reference of median … |
| Second ARB Member: | Right there |
| ARB Member: | You have one. I gave you one. |
| Second ARB Member: | Oh okay. |
| Pat O'Connor: | So, I believe the beginning point is to look at the definitions for depreciation. |
| ARB Member: | You've already gone over those. |
| Pat O'Connor: | So, this… |
| ARB Member: | I'm gonna give you a little longer. I'm gonna give you 'til 9:15 to get through all this for this first hearing. We've already been on it for like thirty minutes. |
| Pat O'Connor: | Ma'am you can read an arbitrary guideline if you want. I'm just trying to do the right thing… |
| ARB Member: | I understand but I … |
| Pat O'Connor: | So we can have the information of value for this property owner. |
| ARB Member: | It would be more prudent to get to the actual information that you have for this particular hearing. |
| Tonya Felix: | All of the information we're presenting is relevant to the subject property, to all of the subject properties on this docket today, so we would like to take a little bit more time… |
| ARB Member: | You've got 'til 9:15 |
| Tonya Felix: | It is going to… |
| ARB Member: | You've got 'til 9:15 |
| Tonya Felix: | Alright, well the law says that we have the opportunity to present our… |
| ARB Member: | Yes you do, but it's not unlimited time. Proceed. |
| Pat O'Connor: | Economic obsolescence is the least understood type of depreciation, and the cost approach is the most difficult approach to value. It's more difficult than the income approach. It's more difficult than the sales comparison approach. In addition to having three different kinds of depreciation, you have both physical … you have both curable and incurable. |
| Pat O'Connor: | Curable depreciation would be something like Harvey, where there's a cost to fix it, and you can fix it. |
| Pat O'Connor: | Incurable would be something like a house built without bathrooms. That's very difficult to cure, something like that. |
| Pat O'Connor: | The economic depreciation that occurs, occurs because people do not want to own that house that was previously flooded. So, go to the Property Analytic Survey. This was conducted in October and November, and our effective date basically says the first week of September, so if anything we're feeling at the beginning of September, then they were later. |
| Pat O'Connor: | This is showing a meeting and discount, page 3, for houses that have been repaired of 11 and 14%, and showing a discount of unrepair houses for 61-65%. It probably took over 1000 hours of work to conduct this survey, and I'd like to tell you what was done, but what I'm gonna do instead go to the survey, which begins … The page is not numbered but it's the first page that has a bar graph like that. |
| Pat O'Connor: | The first question is … Would you be less likely to purchase a house if the seller indicated it had flooded on the Texas seller disclosure form? Ninety-one percent said "Yes". This is in October/November, shortly after, and it's after our valuation date; and you may or may not be aware, but if you sell a home in Texas, unless you're a banker or an executor, you must supply the Texas Seller Disclosure Form. It's mandatory, and if there'd been flooding, and this part is not as clear … The flooding is not of the home. The flooding is of the property. If you look at the form, it refers to the property, so if water comes halfway from the street to your home, your property flooded, and you have to check the box. |
| Pat O'Connor: | The next question addresses that, and sixty-seven percent said that it's more important that it flooded than [inaudible 00:18:40] the flooding. Next one is, would you buy a home that flooded? Harvey's own is what I intended it to mean here, under any circumstance. Seventy-seven percent said "No". |
| Pat O'Connor: | Then you get into the discounts that are appropriate. People had a number of different opinions in different cases, but the basic bone of contention between us and the appraisal district is this … We believe, if someone were to buy a flooded house, there's an adjustment in addition to the cost to repair it. So, I've asked you to sort of work with me in this thought experiment for just a second. |
| Pat O'Connor: | Imagine it's a week after Harvey, when we're doing our valuations, and a friend comes to you … actually not a friend, just say someone comes to you and they say, "Hey, I heard about this house that flooded. Before Harvey, it was worth $200,000, and we figured it out to the penny, it's gonna cost $50,000 to repair. Would you pay $150,000 for it?" |
| Pat O'Connor: | That's really the question we're trying to address here. If not, why not? There's two reasons people would not pay the $150, 000 for a house in that case. The first is that it may not be worth $200,000 when it's finished. We're seeing about a 10-15% differential, and [inaudible 00:20:06] this will diminish over 2-5 years; and one of the studies I've given you has information on a number of studies, and it shows that these effects do diminish. But, as of this time, there is a difference in value. |
| Pat O'Connor: | The other one is the profit incentive, and people do not buy flooded homes just to break even. People who buy flooded homes and other investment properties, do it to make a profit, and the normal profit margin is in the range of about 25-35%. That's what people do. I've done this myself. I've bought about a hundred and eighty properties. I still own about sixty of them that I'm trying to sell one way or another, and that's our typical margin. We're able to buy properties that trustees sell for the 30% discount. |
| Pat O'Connor: | You may not agree with me that 30% is an appropriate discount off the value of a home forthwith because that's what an investor will pay. |
| Pat O'Connor: | Did you give out the Chronicle article? |
| Tonya Felix: | Yes |
| Pat O'Connor: | One of the Chronicle articles you may have seen already has a reference to dimes on the dollar … if you saw that article. So, we're not asking for dimes on the dollar. We're asking you to take a look at the data; and so basically, maybe I'm trying to do too technical approach, but the issue again, in summary, is, the appraisal district, in my opinion, is not considering the impact on value beyond the repair costs. I do not believe that that fully accounts for all [inaudible 00:21:36] in value that occurs. |
| Pat O'Connor: | So, why do I say that? If you'll go to the packet that looks like this. Just stay on the front page for a second, and I'll explain my handwritten notes. |
| ARB Member: | Okay. |
| Pat O'Connor: | Then we can look at some of the detail behind it, and I actually numbered the pages. Remember how much easier that makes it. |
| Pat O'Connor: | On the first page, when we looked at sales compared to HCAD's certified value. So, believe or not, we're trying to work within HCAD's construct of working off the certified value, so we're comparing the sales prices of homes that flooded to the certified 2017 value. What we saw, for a sample that's included that's in the same area is a 31% reduction. I'm sorry, 39% reduction. |
| Pat O'Connor: | So we're multiplying the pre-flood value by 61%, 100% minus 39%, and that generates a value of $534,000. From that, I would deduct $30,000 for remediation, because the homes that sold have not had issues … I'm sorry … The homes that sold have had sheetrock removed, carpet removed. Most of them have mold certificates. They've been dried out, and from the numbers I've seen, it's numbers like $10,000 for a smaller house to $30,000 for a larger house. |
| Pat O'Connor: | If you don't agree with my numbers, pick what number you think is reasonable, but it really does cost money, and we're looking at market values here. We're not looking at how much [inaudible 00:23:14] do it yourself if you did it. Again, you may or may not agree on that, but my opinion, we're looking at market value. You're to sell this property, what would someone consider paying for the property, based on the condition that they would also have to trash it out, including the sheetrock, carpet, drying it out with all those fans, and then mold remediation mold certificate. |
| Pat O'Connor: | So, it's 534 minus 530, call it $505, 000. The second ones, I looked at the improvements on the properties that sold, and we subtracted out the HCAD values. I know you're all familiar with that method, so we simply, for these properties, took the sales price of the properties, we deducted the HCAD 2017 certified value, and then we … I think the value in the range of $16/sq ft is reasonable based on that data. When you do the math, and I'm gonna round to the nearest thousand unless anyone prefers more numbers, but it's $336,000 for the improvements, and notice for the certified land value, if I have it right is $231,000. That's roughly $567,000. Again, I'm deducting $30,000 for the remediation, so I'm at $504,000 on the median reduction approach. I'm at $537,000 on the per square foot approach. |
| Pat O'Connor: | If you'll turn to the next page, this is information on, I can't see the number, but these are sales in that general area. For whatever reasons, there's more Ds and Cs. There's a couple at the bottom that are As, and if you look at those two comps, there's a column that's a little bit to the… |
| ARB Member: | We're not looking at equity on this. We're only looking at market. |
| Pat O'Connor: | This is market Ma'am. These are the sales. |
| ARB Member: | Yeah, but these are … Go ahead. You've used up your time. You've got about ten minutes. |
| Pat O'Connor: | Maybe I'm not being clear, but these are comparable sales. All these properties sold, and this is not an unequal appraisal analysis. There's, I mean the one good news perhaps, is there's not gonna be an unequal appraisal presented. These are comparable sales in the area of the subject, and this shows the value, the 2017 certified value; and it's showing that on median, the sales price is 39% lower than the 2017 certified value. So, if you look at the top one, the sales price was $142,000 versus a certified value of about $290,000 I think. $280,000/$290,000. So, these are comparable sales. For the eight properties, the sales price per square foot is in the range of $16 a square foot. |
| Pat O'Connor: | The subject property was built in 1982. The item 2 sales, one's an A, one's an A- and they were built in '80 and '82, so they're very similar in terms of the age. They are a lot smaller, so if anything, that would indicate a lower price per square foot for the subject. The subject is 5,600 square feet, and it's seemingly much larger. I'm not taking any adjustment for that 3,400 and 3,200 square feet for the two sales. |
| ARB Member: | The problem that I see with this report … None of this report tells me anything about the property, if they flooded, if they didn't flood, what was wrong with them, what the condition was, so you can give me a median from this market. What I'm interested in is trying to determine, help determine the value of this property at. For disaster reappraisal is what damage did this property have, specific property have, and what evidence do you have to support that? That's what I'm looking for. That's what the panel's looking for. |
| Pat O'Connor: | Well, I'm excepting HCADs level of flooding is the evidence of the level of flooding, and I'm working from that to value the property. |
| ARB Member: | Do you have any estimates it cost to repair? |
| Pat O'Connor: | Most of our clients did not provide us any estimates for cost to repair, but it's the appraisal's job to value property. |
| ARB Member: | See, I understand your argument, but this issue isn't about an argument. This is about evidence and what you can support, what the damage was, and the cost of repair. That's what we're looking for. |
Did you find this video eye-opening?
How did you think the Appraisal Review Board hearings actually went?
Let us know your thoughts by commenting below on how the appraisal districts are valuing flooded properties.
Enroll in the Property Tax Protection Program
Chances are many owners have not heard of a substantial error appeal before.
If the property has a substantial error, then the tax code supports owners to file a late appeal.  Instead of the May 15th deadline, the new deadline would be January 31st of the following year!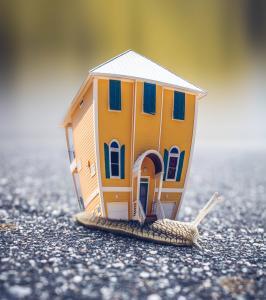 What is it?
Owners may be asking then, what qualifies as a substantial error?
You should never be overtaxed!  If anything, owners should be a bit undertaxed.
If you're overtaxed by more than one-third, there's a substantial error. 
You can file a substantial error correction appeal (25.25d) provided it is filed by the tax delinquency date. This is typically Jan. 31 of the following year.
This substantial error occurs with many commercial properties as well as properties that have seen a natural disaster such as flooded properties or properties that have previously flooded.
Within 15 days after a substantial error motion is filed, the Appraisal District will review the property valuation. If the Appraisal District finds an error and the taxpayer agrees to the District's recommended value, then a Joint Motion can be filed and no further action is required by the taxpayer.
However, if the Appraisal District does not agree that an error has been made or the taxpayer does not agree to the Appraisal District's recommended value, then the ARB will schedule a hearing on the substantial error motion.
The ARB will hold a hearing on the substantial error motion in the same manner as a regular protest hearing. Substantial error hearings are generally held in March after the taxes for the year are due.
If the ARB cannot find at least a 25% error in the appraised value, then no change can be made.
If the ARB does make a change under this type of motion, the taxpayer must pay a late-correction penalty equal to 10% of the amount of taxes as calculated on the basis of the corrected appraised value. The penalty applies only if a change in the value is made by the ARB. I would recommend paying the taxes in full on the noticed value in case the motion is denied.
How can homeowners qualify?
For property which has been substantially over-assessed, owners can appeal through January 31 by filing a motion to correct an appraisal error for the current tax year (form 50-230).
To qualify for a 2525d property tax appeal, the property must be at least one-third over-assessed. An easier way to think of it is the error must be at least 25% of the market value of the property as determined by the Appraisal District.
A property cannot file a 2525d appeal if:
The property owner or his agent attended an ARB hearing; or
Agreed to an assessed value
If you've missed the recent deadline to file your property tax appeal, and you believe that your property may have a substantial error, then proceed to your appraisal district's website to fill out the property tax appeal form. We have included a Universal Form below if you would like to file by mail. The deadline is Jan 31st of the following year.
Universal Form to File an Appeal
In addition to filling out the appeal form, also include a short, handwritten note requesting the Hearing Evidence Package. Click here to use a template for this.
This package will contain valuable information on how your property is being assessed, which allows you to determine if you're being fairly taxed or not.
If you'd like to find out sooner rather than later if you're being fairly assessed or not, visit the Texas Fairness Checker. It's free and you'll find out if you're being fairly assessed in under 2 minutes.
We pose this question to our esteemed readers:
Has the Appraisal Review Board (ARB) in Harris County lost its mind?
There have been concerns for 25 years surrounding bias at the Appraisal Review Board, but they truly set a new low this week.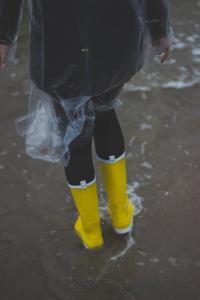 Why do we think that?
After a week of disaster re-appraisal hearings, ARB board members have made it clear that they've taken a biased approach when evaluating properties that were impacted by Hurricane Harvey.
In the hearings I sat in, ARB members essentially told us (property owners) not to bother presenting evidence because they're not going to consider it. Even though the appraisal district has not done a legitimate estimate of market value as required by the tax code! They also have no evidence!
They're just going to rubber-stamp whatever Harris County Appraisal District is requesting, file after file after file. Time after time.
What can you do?
Contact Harris County Appraisal District and let them know this is not OK!
Taxpayer Liaison Officer:  Teresa S. Terry
Monday through Friday, 8:00 AM – 5:00 PM    (713) 957-7800
Let us know your thoughts. Is this just outrageous that the Harris County Appraisal District is ignoring the law and not valuing on market value? And is it outrageous that the Appraisal Review Board is discouraging people from presenting evidence?
To find out if you're fairly taxed, go to the Texas Fairness Checker – it's free and you can find out if you're being fairly assessed in less than 2 minutes.
The fact is: You will be over-taxed for 2018 if you were a flooded property owner and do not file

an appeal, in 95% of cases in my opinion.
Here are 5 Property Tax Reduction Tips for Texas Property Owners Flooded by Hurricane Harvey 
Property that has prior flooding and is fully repaired is selling for a 10 to 15% discount, even considering everything is new. The discount would be larger if the age of carpet, cabinets, countertops, and paint was typical.  Flooded property not repaired is typically selling for a 50 to 60% discount, compared to flooded houses.


If your house flooded and was not repaired on January 1, 2018, you probably qualify for a 60% property tax discount for 2018.


File an appeal if you have not already. You can file a "substantial error" appeal if the deadline has passed.  Many appraisal districts are late with noticed values for areas that were flooded by Hurricane Harvey.  You can likely file your appeal on your appraisal district's website. *Important: The appraisal district does not have to send a value notice unless they raise the value. (Keep in mind that the regular deadline to appeal is May 15th each year or 30 days after the appraisal district mails you a notice of value, whichever is later.)

The special late-appeal option available to flooded property owners is based on a substantial error. A "substantial error" is defined as if you are over-taxed by more than one-third, you qualify for a late appeal until January 31, 2019!  This is based on 2525 (d) of the Texas Tax Code.
Note that the appeal is a "substantial error appeal" and check the box for "other" for "Type of Appeal".

Gather information on your property! You absolutely must provide the appraisal district with proof the property flooded.  Appraisal districts are requiring flood documentation before they consider evidence. They want two types of information from you BEFORE they will consider anything:

Pictures of flooding, including pictures after January 1, 2018
Repairs not completed as of January 1, 2018. A construction drawing from December 2017 or January 2018 would work great.  If you do not have a construction draw, document repairs before and after January 1, 2018, as well as repaired not completed.

Obtain the appraisal district's hearing evidence package. This information is usually enough to get a reduction for you. You can download a step-by-step guide to getting the appraisal district's evidence. Click here to get your guide! 
Review the appraisal district's hearing evidence package. Look for error in their description of your property and comparable sales that support a reduction. If you own a flooded property, they most likely have an error in their description.
Attend the hearing and you have a 2/3 chance to WIN!  You are likely to get a meaningful reduction if you follow the above steps.
If you do not want to handle your own appeal, click here to enroll in the Property Tax Protection Program. No-Cost program enrollment ensures that you are protected each and every year and you only pay a fee if O'Connor is able to reduce your property taxes.
The Taxpayer's Bill of Rights in Texas – Do you know your rights as a taxpayer??
Did you know that you had rights as a property owner??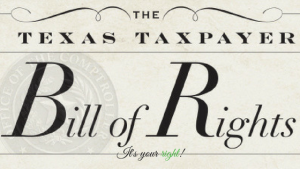 According to the Texas Comptroller, there are 12 basic RIGHTS that you are entitled to.
YOU HAVE THE RIGHT to equal and uniform taxation.
YOU HAVE THE RIGHT to ensure that your property is appraised uniformly with similar property in your county.
YOU HAVE THE RIGHT to have your property appraised according to generally accepted appraisal methods and techniques and other requirements of law.
YOU HAVE THE RIGHT to receive exemptions or other tax relief for which you qualify and apply timely.
YOU HAVE THE RIGHT to notice of property value increases, exemption changes and estimated tax amounts.
YOU HAVE THE RIGHT to inspect non-confidential information used to appraise your property.
YOU HAVE THE RIGHT to protest your property's value and other appraisal matters to an appraisal review board composed of an impartial group of citizens in your community.
YOU HAVE THE RIGHT to appeal the appraisal review board's decision to district court in the county where the property is located.
YOU HAVE THE RIGHT to fair treatment by the appraisal district, the appraisal review board and the tax assessor-collector.
YOU HAVE THE RIGHT to voice your opinions at open public meetings about proposed tax rates and to ask questions of the governing body responsible for setting tax rates.
YOU HAVE THE RIGHT to petition a local government to call an election to limit a tax increase in certain circumstances.
YOU HAVE THE RIGHT to receive a free copy of the pamphlet entitled Property Taxpayer Remedies published by the Texas Comptroller of Public Accounts prior to your protest before the appraisal review board.
IT IS YOUR RIGHT TO PROTEST AND GET A FAIR VALUATION! Exercise your RIGHTS by protesting each and every year!
To find out if you are being over-assessed, go to the FREE Texas Fairness Checker at CutMyTaxes.com. You will quickly find out if you are over-assessed and view the results.
Whil
e all property owners agree that property taxes are too high, owners become particularly incensed when property taxes are assessed unfairly. Owners don't mind paying their fair share, but it is unacceptable to pay more than other owners pay for similar properties.
So you may be asking, what is the potential? Example Below:
Gary owns an apartment complex, which in 2002 was assessed for $3 million.The 2003 assessment was increased to $5 million.
The net operating income for the property supports a value in excess of $5 million; however, the assessments for similar properties support a value of approximately $3 million, based on a per unit basis. Gary's tax consultant compiled information on the assessment comparables that supported a value of $3 million and presented this information to the Appraisal Review Board (ARB).
The ARB panel members asked why the tax consultant did not present information on the income and expense for the property. The tax consultant replied that the market value was not at issue in this appeal; the issue was uniform and equal. After considering the assessment comparables, the panel concluded to a value of $4 million, which generated tax savings of approximately $30,000 for Gary in 2003.
What is Uniform and Equal?
Appealing under equity or uniform and equal essentially involves using a reasonable number of appropriately adjusted comparable properties. The subject property should be assessed for the median level of the comparables after adjustment. The technical aspects of this will be discussed later in this article. However, the essence of an equity appeal is to contrast your assessed value with the assessed value for similar properties.
Benefits of an Equity Appeal
Using assessment comparables to reduce your property taxes can be an effective and cost efficient tool. It increases the number of appeal options by at least double and perhaps six-fold. Equity provides meaningful help when the assessed value is less than or equal to the market value of the property. When meaningful evidence is presented on inequitable assessment, fairness does not need much explanation. For example, if your tract of land is assessed at $4 per square foot and an adjoining parcel with similar functional utility is assessed for $2 per square foot, a tax assessor or appraisal review board member can readily understand an adjustment is warranted.
In addition the appraisal district has the burden of proof at an administrative hearing. Whether it is on market value or on equity, you do not have to be an appraiser to prepare or understand an equity analysis. Most owners have historically utilized only an appeal on market value at the informal level of appeal. This essentially gives them only one of six appeal opportunities. Using uniform and equal and using the three appeal levels (informal hearing, appraisal review board hearing and judicial appeal) gives the owner six options to appeal property taxes annually. One setback to appealing on equity is that it can be time consuming to gather and summarize information on assessment comparables.
The six appeal options are summarized below:
Level of Appeal
Type of Appeal
Informal hearing
ARB
Judicial Appeal
Market Value
Market Value
Market Value
Unequal Appraisal
Unequal Appraisal
Unequal Appraisal
Further, the value of an account cannot be raised during a judicial appeal that is based upon equity. However, the value can be raised on a judicial appeal based upon market value. Hence appealing on equity gives the owner only up-side and no down-side during the judicial appeal process.
History on Equity
When President Bush was campaigning for governor of Texas in 1996, he made property tax reform one of the key items in his campaign. During 1997, the Texas Legislature passed numerous meaningful changes to the Texas Property Tax Code. These included amending the Code to allow uniform and equal (equity) appeals at both the administrative hearings and judicial appeals.
The legislature effectively wrote the code for judicial appeals but the drafting was unclear regarding equity appeals at the administrative levels (informal hearing and appraisal review board hearing). Subsequently the central appraisal districts generally vigorously fought judicial appeals on equity until 2001 when the Texas Appeals Court ruled in favor of property owners and the Texas Supreme Court declined to hear the case.
Even after the Texas Supreme Court spoke on fairness and taxation, most appraisal districts still declined to consider equity at the administrative appeal process. The typical comment during an administrative appeal on equity was, "You can sue us to get your taxes assessed equitably, but we can't consider this information at the administrative hearings."
Nevertheless, many appraisal review boards have been considering uniform and equal for the last several years.
A New Dawn in Texas Property Taxes
The 2003 Texas legislature clarified the Texas Property Tax Code to confirm that property owners can appeal using uniform and equal at the administrative hearings. This will dramatically change the tax appeal process at the administrative level in 2004 and beyond.
When Equity Appeals can be Helpful
Equity appeals are helpful when properties are unequally assessed. A surprising number of properties are unequally assessed. Single-family properties tend to be more consistently assessed. However, apartments and commercial have a high level of dispersion of assessed values for properties which are similar in size, age and location.
"Sales chasing" occurs when an appraisal district focuses on assessing only an individual property at its sales price and not re-assessing other properties in the submarket. When an owner is a victim of sales chasing, equity can be a particularly effective defense methodology.
Equity can also be helpful for new construction. The appraisal district tends to value all properties at construction costs; however, in many cases the market value of a new property is less than construction costs. This can occur because of economic obsolescence which has occurred in Houston due to overbuilding or to a value-in-use issue such as a restaurant or bank building developed in a special architectural format and motif for a particular business enterprise.
Equity appeals can also be very helpful when the market value is greater than the assessed value, and an appeal on market value would not be appropriate or productive.
Finally, appeals on equity can be helpful when the owner or the tax consultant does not have ready access to market value information such as profit and loss statements or rent rolls, but can compile information on assessment comparables for an equity appeal.
Preparing an Equity Analysis
An equity analysis can be prepared for either the land only or for the overall property. A land equity analysis can be prepared regardless of whether the property is improved or vacant land. Appraisal district staff and appraisal review board members both seem receptive to the concept of land equity. It is straightforward, clear and easy to understand, especially when similar adjacent parcels are assessed dissimilarly.
An overall equity analysis considers the total assessed value for the property compared to a reasonable number of comparable properties that are appropriately adjusted for differences such as size and age. Making adjustments complies more strictly with the Texas Property Tax Code, but in some cases appraisers and ARB panels are more comfortable with unadjusted data. Adjustments are further discussed later in this article.
Land Equity Analysis
To prepare a land equity analysis, research the assessed value for the land component of your property and of other properties which are on the same street. While it is possible to argue that land assessment comparables on another street are comparable, it is much more straightforward and clearly understood when the parcels are on the same street. Consider preparing a plat showing the assessed value per square foot of the subject property and the assessed value per square foot of adjoining properties.
In addition, prepare a summary table listing the property location, key map code (or Mapsco), size in square feet, current year assessed value and assessed value per square foot. In many cases, it is appropriate to propose an appropriate assessed value for the subject land by multiplying the proposed per square foot assessed value times the square feet of land for the subject tract. Consider the following equity analysis for a subject property at 1000 Smith Street:
Land Equity Analysis
Location
1000 Smith St.
1010 Smith St.
1020 Smith St.
1025 Smith St.
KMC
497J
497J
497J
497J
Sq. Feet
100,000
120,000
60,000
100,000
Assessed Value
$100,000
$60,000
$18,000
$80,000
AV/PSF
$1.00
$0.50
$0.30
$0.80
Median AV/PSF for similar properties is $0.50
100,000 sq. ft x $0.50 = $50,000 recommended assessment based on equity
Preparing a Building Equity Analysis
The Texas Property Tax Code as revised in 2003 (Section 41.43 (b)) for appeals on equity in the administrative hearings is as follows:
(b) A protest on the ground of unequal appraisal of property shall be determined in favor of the protesting party unless the appraisal district establishes that… the appraised value of the property is equal to or less than the median appraised value of a reasonable number of comparable properties appropriately adjusted.
The primary issue is selection of a reasonable number of appropriately adjusted comparables. The first step is to locate a group of comparables to consider. As a property owner, you likely are aware of your direct and indirect competitors. Most presentations on equity use five to ten comparables.
In some cases it is appropriate to use more and in some cases there are not as many as five comparable properties which are reasonably proximate. Determining the reasonable number of comparables depends on judgement and the fact situation.
Making appropriate adjustments is a combination of art and science. Real estate appraisers typically make adjustments in the sales comparison approach to adjust for differences in size and age. Preparing an equity analysis for a tax appeal which includes adjustments on age and size is reasonable and appropriate. If the comparables are similarly located and similar in regard to size and age, the economic characteristics should generally be similar.
Any differences in economic characteristics are likely the result of business enterprise value as opposed to the value of the apparent real estate. The business enterprise value is not subject to property taxes.
The final step is to prepare a summary of the subject property and the assessment comparables with or without adjustments. In some cases the owners may elect not to make adjustments to the assessment comparables since it takes time and in many cases the appraisal district staff and appraisal review board members can make their own determinations about which comparables are most appropriate and should be given greater emphasis in assessing the subject property. When there are many comparables available, care and judgement should be exercised to find the comparables which are best suited for the analysis.
Practical Applications and Their Impact
Equity appeals are a cost efficient and effective way to reduce and minimize property taxes. For owners who have recently purchased property, the appraisal district may press for a copy of the closing statements. This seems inappropriate and inconsistent with the concept of equity. While one could understand why a closing statement is relevant to a market value appeal, it is inconsistent with and antithetical to an appeal on equity.
In some cases, owners may need to provide the closing statement to continue the appeal process even if the closing statement indicates a value higher than the assessed value. However, most appraisal review boards are reasonable and will consider information on equity even if the purchase price supports a higher value. It may not make sense to provide the closing statement if the purchase price is dramatically higher than the current assessed value and an equity appeal supports only a modest reduction in property taxes.
The use of uniform and equal, or appeals on equity, at the administrative hearing process will dramatically change property tax appeals. If you do not consider an appeal on equity for 2004 property taxes on your investment property or home, you will probably overpay your property taxes. This dramatic change in property taxation will cause some chaos as the central appraisal districts work to adapt and consider this new avenue of appeal. There will be varied acceptance of equity appeals among appraisal districts and between the informal, appraisal review board and the judicial appeal phases within individual appraisal districts.
For example, some large appraisal districts are still saying "We don't use that equity stuff," for judicial appeals even though the Texas legislature passed the equity provision for judicial appeal seven years ago and it has been affirmed by the Texas Supreme Court.
Equity should be considered for all appeals, both at the administrative and judicial appeal levels. Although the Texas legislature has provided property owners  most owners still only use one option (market value appeal at the informal hearing). Using the other five appeal options will result in lower property taxes.
Judicial Appeals on Equity
Many owners of income property have been reticent to file judicial appeals for property taxes. Regrettably, it is not practical for most property owners to ascertain whether their property is equitably assessed or not until after the administrative hearings have been completed. Many properties are inequitably assessed when the initial noticed values are determined.
The level of inequity tends to increase during the hearing process because of the differences in appraisers and appraisal review boards. While all the parties are attempting to do the right thing, results can be inconsistent when human judgement is applied. For owners of large income properties, a judicial appeal on equity can be an especially appropriate and effective remedy to minimize property taxes.
Summary
The change on equity passed by the 2003 Texas legislature has launched a new era in tax appeals. The ability to appeal on either equity or market value doubles options for appeal. Equity appeals will quench some of the dissatisfaction on property tax. No one wants to pay high property taxes but owners bitterly resent being assessed unfairly and unequally. However, most appraisal districts in the recent past have declined to discuss the level of assessment for neighboring properties at appeal hearings.
Appeals on equity can be challenging to prepare in volume. You should discuss your consultant's ability to prepare equity appeals and their plan to implement them before the 2004 tax appeal season. Implementing appeals on equity will be challenging and difficult both for tax consultants, owners and for the appraisal district staff. It will be a major adjustment for the staff at central appraisal districts.
However, it presents an incredible opportunity for owners to reduce property taxes. Equity provides a good opportunity for tax reduction even when the market value is higher than the assessed value.
Find out your property tax fairness assessment by clicking on the following link:Texas fairness checker. Leave your comments below we'll be happy to provide our feedback.
Did you know that lower property taxes is a lot easier than you think?
There are only 4 simple steps standing between you and lowering your property taxes to 50 to 80% of market value. It's a shame that only 7% of property owners appeal their unfair values annually because that means that over 90% of property owners are overpaying the government! Wouldn't you agree that you can spend your money better than the government can?
Here are 4 simples actions to take to help your appeal be as successful as possible.
Step One: Appeal your property taxes EVERY YEAR. This is important because the process can be arbitrary. If you fight to lower your taxes every year you have a greater chance of significantly reducing your taxes.
Step Two: Appeal to the highest level that is financially feasible. O'Connor files about two-thirds of the binding arbitration cases in the state of Texas and we also coordinate a large number of judicial appeals. By being as aggressive as possible and appealing to the highest level practical we're able to lower tens of thousands of clients property taxes.
Step Three: Check the appraisal district's description of your property, and make sure it's accurate, or at least that it doesn't overstate the size or quality of your property. If it understates it, leave it alone.
Step Four:  Be aware that if you file a building permit it is most likely going to affect your property tax valuation. If a permit is filed as part of doing construction, it will probably affect your property taxes.
Bonus tip: Provide pictures, bids, and a property survey annually, to the extent practical. These are a great help in helping you, or us if you are a property tax client, to reduce your property taxes. Information provided even one or two, or 10 years ago, just really isn't considered. It probably should be, but the reality is that's how it works. If there's deferred maintenance, pictures, and bids, and the property survey, annually can play an important role in reducing your property taxes.
You can easily save yourself hundreds or thousands by taking an hour of your day to appeal your property value. Be sure to file by the new May 15th deadline in order to do so. You can easily see if your property is being fairly assessed at the Fairness Checker, it's free and easy to use.
When filing a property tax appeal, there are THREE things that you MUST do every year.
And these THREE things are a MUST when filing your property tax appeal
. I've always recommended filing an appeal each and every year.
Why?
Because you don't know if you should appeal until you've seen the appraisal district's evidence.
BUT you can't get the evidence unless you file an appeal.
It doesn't make sense, I know, but it's the government. If you find that the evidence doesn't support a reduction, then you can cancel your appeal. In my experience though, the appraisal district's evidence supports a reduction more often than not.
You lose nothing by filing an appeal by the deadline and then reviewing the evidence to decide if you would like to continue.
Remember these three things:
Appeal annually (because you cannot get the appraisal district's evidence unless you file an appeal)
On the Form to File, be sure to check the boxes for both market value and unequal appraisal (example shown below)
Request the appraisal district's evidence package when you file your appeal annually!

You will find a template further down on this page for you to use to request the evidence your appraisal district has on your property. The appraisal district must provide the evidence to you at least 14 days prior to your hearing. This is the law.
AND OFTEN TIMES, THEIR EVIDENCE SUPPORTS A REDUCTION!
House Bill 201 is the term used by property tax consultants to describe provision 41.461 of the Texas Property Tax Code.
This section reads as follows:
"at least 14 days before hearing on an appeal, the chief appraiser shall: … inform the property owner that the owner or the agent of the owner may inspect and may obtain a copy of the data, schedules, formulas, and all other information the chief appraiser plans to introduce at the hearing to establish any matter at issue."
The property tax code further provides the chief appraiser the right to charge, but there are limits on the cost per page an appraisal district can charge. Generally, the maximum charge is $1 to $2 for a residence. In some counties, homeowners can print this information from the appraisal district's website once an appeal has been filed.
If your county does not have an online filing system or a way to access the evidence online, you will need to request the evidence in writing.
YOU MAY USE THE SAMPLE LETTER BELOW TO REQUEST YOUR EVIDENCE PACKAGE FROM YOUR APPRAISAL DISTRICT.
Mr. Chief Appraiser
Harris County Appraisal District
13013 Northwest Freeway
Houston, TX 77040

Re: House Bill 201 request for property at 2345 Main Street (account # 1234567890010)

Dear Sir:

Pursuant to section 41.461 of the Texas Property Tax Code, please provide a copy of the data, schedules, formulas and all other information the chief appraiser plans to introduce at the hearing to establish any matter at issue.

It is my understanding that information, "not made available to the appealing party at least 14 days before the scheduled or postponed hearing may not be used as evidence in the hearing," according to 41.67d of the Texas Property Tax Code.

Please notify me when a copy of the above-referenced information is available.

Sincerely,
Able Property Owner
In summary, be sure to appeal
on both market value and unequal appraisal. And include a request for your evidence package when filing your appeal – ANNUALLY!
May 15th is the new deadline to file property tax appeals in Texas. This change went into effect this year (2018).
To find out if you are being over-assessed, go to the FREE Texas Fairness Checker at CutMyTaxes.com. You will quickly find out if you are over-assessed and view the results.
Rising property taxes is a hot issue in the race for Governor, yet the essential fix being offered by Gov. Greg Abbott and Lt. Gov. Dan Patrick is a decrease in the duty rollback rate. (The rollback tax rate provides the taxing unit with about the same amount of tax revenue it spent the previous year for day-to-day operations, plus an extra eight percent increase for operations and sufficient funds to pay debts in the coming year.)  Since administrative expenses will top local taxes, this would indicate that high property taxes are caused by local administrative reckless spending. On the off-chance that this was valid, it would release the state from obligation and duty to change and would make remedies on a state level pointless.
Expenses and government-funded school financing rules are unpredictable and, like the proverbial dishonestly shuffled deck of cards, stacked with information not generally known by Texas citizens. This permits state officials to dodge hard inquiries regarding these issues at election time and keep running for office by speaking to the voters' outrage. Mortgage holders are furious about the agony of high property taxes; they simply don't generally know who's at fault. They do know that tax reform is needed in Texas.
Promising to settle property assessment issues with local administrative-imposed top-down spending cuts is misleading and is simply one more unfunded state directive.  School taxes make up 54 percent of all local taxes; however an expense cut would not make a difference to state-funded instruction.
As of late, the state's offer of government-funded spending has declined from 45 to 37 percent, according to the Legislative Budget Board. Neighborhood property assessment dollars have increased to cover that tax reduction. The Texas Education Agency predicts it will "recover" $5.13 billion amid the following spending time frame, up from $3.69 billion in the present spending plan.
Increasing income from school taxes enables the state to utilize neighborhood property taxes for programs other than education. It has turned into a device to help adjust the state spending plan.
Recovery, or what is regularly called "the Robin Hood plan," has been ruled legitimate by Texas courts. The Robin Hood plan is the state's practice of collecting portions of property tax revenue from wealthier districts and redistributing it to poorer ones, also known as "recapture." The state Constitution denies a state property assessment; however when neighborhood property taxes are utilized for purposes other than education, it could be described as an imposed state property tax?
Property taxes provide more cash to local administrations in Texas than any other source. Property taxes help to pay for government-funded schools, city streets, area streets, police, fire assurance and numerous administrations. When you tie the local administrative hands with unfunded state mandates, it does nothing to cure the genuine issue of school subsidizing. Additionally, there is a good possibility expenses for different administrations will rise. Schools, urban communities, junior colleges and metropolitan utility areas, or MUDs, are seeing significant income decrease from an escape clause that is moving assessment obligations to citizens.
Supposed value assessments disregard real market value (buyer and sellers confidence). The value escape clause enables an organization to lower an incentive by contrasting their property with another that might be many miles away. The issue is that the law does not characterize what it considers an equivalent property. When one owner gets his assessment reduced, another owner can use that one as a comparison, regularly bringing about qualities that have very little to do with their actual value— a radical takeoff from the acknowledged examination.
In 20 years, taxes in Texas have embraced such a framework. No other state has adopted such a system "No one else has been so dumb," said Jim Robinson, previous head appraiser for the Harris County Appraisal District. The consequence of the value law is a move in tax obligation from a large number of enormous corporations to ordinary homeowners and private ventures. This escape clause harms urban communities and does extraordinary damage to the lower and middle classes.
Since its inception, the quantity of claims has snowballed. Local districts are compelled to settle since it resembles battling in a ring without any ropes.
In Jefferson County, local schools and governments had to pay Valero Energy $24 million to settle a property value claim challenging the assessment of its refinery in Port Arthur.
In Texas City, Valero Energy Corp is utilizing this legitimate provision that is constraining the city, local schools, the College of the Mainland, and the region to pay about $15 million in property taxes. Texas City Mayor Matthew Doyle said, "They're taking $9 million from the students of Texas City and La Marque." Also, TCISD has sent over $100 million to the state recovery or the alleged Robin Hood scheme.
Other industry wouldn't sit on the sidelines for long if their opposition was getting decreases, and that is precisely what is occurring. A year ago the CAD was compelled to bring down the estimation of the Marathon Galveston Bay Refinery (GBR) to $705 million from the $1.8 billion valuation when BP owed a similar refinery in 2009, as indicated by Galveston County Appraisal District records. The reduction disregarded the fact that the GBR is presently the second-largest refinery in the district, having acquired the $240 million smaller Marathon refinery, and is part of the way through a $2 billion-dollar extension.
The general population of Texas City appreciates their refineries; however those organizations need to pay their fair share. Mortgage holders are extended as far as possible and beyond any doubt stretched thin with more expense duty imposed on them.
State officials need to choose whether tax reform and diminishing mortgage holders and independent companies of some of this high expense torment is more essential than respecting powerful enormous organizations and other uncommon interests.
As promised, here is my video on the
5 Things You Can Do To Reduce Your Property Taxes
To The Lowest Possible Level
OKAY, I'll give you them to you here:
Snap Some Pictures

Get Bids for Deferred Maintenance

Verify the Size of Your House

Review the Year of Construction

Complete the Property Survey
Visit your client portal at CutMyTaxes.com to upload all of your photos, bids, and other items that will help to reduce your property taxes this year!
The Great Property Tax Heist of 2018 will net over $2 billion from Texas property owners.
And even though laws are being ignored, no one will go to jail. 
How can this be? I explain in this video below: 
Texas law requires appraisal districts to value property at market value on January 1.
To value property, one must understand its condition and the factors that influence market value, including flooding.  Many appraisal districts are not making an effort to determine which property flooded.
Despite almost $200 billion worth of damage estimated by governmental sources, governmental sources valuing property (appraisal districts) have only identified about $25 billion worth of property damaged by Harvey.
In addition, even though 70% of Harris County was under water at the time of Harvey, these property owners have to report flooding.
The appraisal district's position of not considering flooding in Harris County is expected to cause taxpayers to be over-taxed by $780 million in 2018.  The appraisal districts that do revalue are expected to over-value by only considering the cost of physical repairs.
This situation is expected to be the same across the Gulf Coast.
Enroll Now to Get Protected Today!
Despite statutes that require appraisal districts to value property at market value, most appraisal districts do not understand the valuation process.  They do not understand that a property has flooded if the water rose outside/beyond the sidewalk.
My discussions with tax entity staff have made it clear they have no interest in reducing taxes, even if it is what the law requires.
It is clear to me that after having discussions with Houston City Council staff, their focus is on generating revenue to solve the city's chronic budget woes.
Regrettably, there is no remedy when an appraisal district overvalues two-thirds of the properties in the appraisal district. Property owners must appeal their notice values one at a time.
The ONLY remedy is for property owners to file an appeal each and every year. 
NOTICE: The Texas deadline to file an appeal changed to MAY 15, 2018. But if you were flooded by Harvey, you STILL HAVE TIME to file your appeal!
If you would like to find out if you're fairly taxed based on unequal appraisal, go to the FREE Texas Fairness Checker. It only takes a few minutes and you will find out immediately if you are overassessed.
Attention Texas Property Owners!
For the first time in almost 40 years, the deadline in Texas to render personal property and to file an appeal has CHANGED with little notice to taxpayers.
The OLD deadline to file a property tax appeal in Texas was May 31st. The deadline to render personal property was April 30th. That is a 15-day change in the deadline!
A few weeks ago I was speaking at a luncheon on property taxes to real estate industry professionals. I decided to take a quick poll and ask the audience:
"How many of you know about the appeal deadline changes this year?"
Do you know how many people raised their hand??
ZERO.
I thought: "How is this possible? Out of 80 real estate professionals, none of them knew there was a change in the deadline to appeal?"
But that was the case. And I imagine that is the case among thousands of property owners across Texas.
I even took a look at the top 100 county appraisal district's websites in Texas and found that under 40% of them had both of the dates updated on their website.
How are Texans to know the accurate deadline to appeal if the appraisal district's websites aren't updated?
That's why I'm asking YOU to share this with your friends and neighbors! Now! Before it's too late!
The new Deadlines in Texas to remember this year:
Business Personal Property Rendition Deadline:
April 2, 2018 (April 1st is a Sunday this year)
Property Tax Appeal Deadline:
May 15, 2018
In conclusion, file your property tax appeal by May 15th this year. If you own a business and have personal property to render, be sure to render by April 2nd. There is a 10% penalty for property owners that do not render.
If you would like to see if you are fairly assessed – Go to the FREE Texas Fairness Checker at CutMyTaxes.com. It only takes a few minutes and you will find out if you are fairly assessed by the appraisal district.
Mike Collier – democratic candidate for lieutenant governor opens up about the two policies that made the property taxes in Texas to fall into crisis.
Texas is a wealthy state, and the government is not wasting any money, but still property taxes are so high. Mike Collier explains why,
1.Equal and Uniform law
Legislature of Texas has passed an Equal and Uniform law in 1997, in which the property owners can fight against the appraisal district if they can show that the comparable property of them is appraised at lower values than their own. This sounds good and logical as a concept, but this has left an unintended loophole to the owners with large, industrial and commercial properties. The theme is, if one owns a complex asset and talented lawyers, then it is really not needed to pay the fair amount of taxes to the government of Texas. Mike Collier says closing the loophole is a chief element of his agenda on tax reform, as a lieutenant governor.
2.Tax Swap
In 2006, there was a tax swap did by the state. This tax swap has dug a big hole in the state's budget. Recently, Texans has presented a tax revolt, through their local school districts, charging the state. Finally, Texans has won and state lost. In order to obey the court, property tax had a cut and created business margin tax to counter it. This idea is to keep the tax revenue unchanged and also to provide relief to the homeowners. But the creation of margin tax was a total disaster. The margin tax was passed, knowing they could recover the lost revenue through slow and steady increase in property values, thereby compensating the loss.
This idea worked. By 2013, the property taxes had climbed up and the state government had reduced the margin tax by 5 percent. This 5 percent dip in margin tax was not noticed and they cut the margin tax by another 5 percent in the following year. Again it remained unnoticed. So, there was another cut which reduced another whooping 25 percent. Another thing is a structural shortage caused by the failed tax swap that happened in 2006, summed with the margin tax cuts in 2013 and 2015. So these actions had forced local property taxpayers to compensate a greater share in terms of public education, and the property taxpayers had to take up greater share of local property taxes.
Through the Equal and Uniform loophole, homeowners will get roughly double the burden. Mike Collier said that if he is elected, he will be honest about all these type of issues, which is the only way to eradicate the property tax crisis.
The real estate market of Houston has beaten the existing sales record, even after the devastating effects of Harvey. Damage caused by Harvey is substantially high, but the Houston housing market did not lose its steam. The housing market has recorded a significant increase of 3.5 percent compared to last year's sales record. This is totally unexpected after the upsetting effects of Harvey.
While many people are still trying to repair the damages, Houston realtors are seeing an unexpected massive rebound in the housing market unlike any rebound in past decades.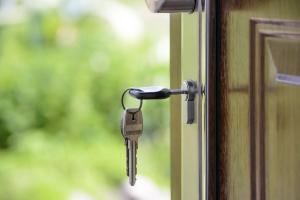 Looking at the 2017 sales record of Houston's housing market, it shows that buyers closed on nearly 79150 single family homes in the Houston area,  representing almost $23 billion in sales as reported by the Houston Realtors Association. This increase inflated the median price by 3.8 percent to $229,900. This is the first time for the Houston housing market to break a sales record after such a damaging natural calamity.
No one in the Houston real estate market imagined that 2017 would be the new record-setting year after the harsh effects of Harvey. In a statement given by the HAR chair Kenya Burrell-VanWormer, she reports, "It is evident that many people are tirelessly working to rebuild their life after Harvey … overall, this clearly illustrates the unbelievable flexibility of Houstonians, who are responsible for the bright economy of Houston. The Houston real estate sector which is greatly affected is back to its form with even greater energy, and this is a proud moment for the realtors in Texas."
Congressional tax overhaul could considerably reduce the home values in high tax states and create credit risks for local governments.
According to S&P Global ratings, proposals to wipe out state and local tax deduction could directly affect the property tax payers of high tax states, as it directly disturbs the property values. Also, a credit impact is anticipated from both tax base reductions, resulting reduced revenue from lower taxes, directly affecting the local governments relying on property tax revenue.  High tax states like California, New York and New Jersey are the most affected, while Florida and Texas could reap some benefits (states with lower taxes).
The House chamber approved the tax bill version on 16th Nov 2017, terminating deductions of state income taxes and hindering property tax deductions to 10000$, while the yet to be approved Senate version to eliminate entire deductions for property taxes.
California State Controller Betty Yee, in an interview said that "This is one deduction that really strikes at the heart of middle America, particularly California". Further, she added that she and her team is looking at property tax payers who have to look for alternate means to provide financial security. Affected people could get a home for gaining security in the longer run, but it can affect retirement security, the local budgets, state budget and credit risk for governments as well as on individuals.
She continued by saying "equity could be sucked out" of homes, as the effect spreads across the real estate market.
Betty Yee said that proposal to eliminate mortgage deductions over 500000$ is an another major issue, as California has seven cities out of the most affected ten cities, that includes San Francisco, San Jose, and Orange County.
S&P said the projected deviations in both the bills possibly lead to greater borrowing costs for municipal issuers, straining the budget.
On the flip side, these proposals are positive for the market in some ways, getting more buyers, as there could be very less issues in the upcoming days, in which the proposals turns into law. This will be an active period for issuers, as they will attempt to grab the market before next change.
Yee said that removing local and state tax deduction would add up a burden of 5.8 million. This could be a freeze on house prices and risk of some home owners is becoming more evident on mortgages. She also said that a reassessment for these properties is on its way because of declining value.
According to Laura Porter, Fitch managing director, "What it could affect is revenue growth prospects for the local government over time. That could make budgeting hard, but we wouldn't' see immediate impact. Over time it's always a challenge for governments to match revenues with spending. On the state level in particular, revenue growth has been really slow," she said, adding anything that affects the capability to increase revenues harms flexibility.
One day, while discussing the self-storage facilities they co-own, Bill and Joe wound up debating why some assets outperform others. They're interested in developing more properties, but they begin to realize that traditional metrics don't seem to explain what causes extraordinary performance in some properties over others.
Figuring out if a plot of land will work well for self-storage is an inexact science, but there are data tools that can help determine if a property is financially viable based on local customer attitudes, aspirations and other psychological criteria. Welcome to the world of psychographics.
What the Heck Are Psychographics?
Historically, self-storage developers and operators have relied on feasibility studies to determine where to build and forecast future success. While such a study is helpful in deciding whether a site will be viable, it doesn't get into the heads of the potential customers within a local market or reveal anything about their buying habits.
A feasibility study typically includes a breakdown of demographics, traffic counts and patterns, competition in the area, market demand for space, and market rents and occupancy. It also provides a recommendation for unit mix, an analysis of amenities and climate-controlled space in the market, a pro forma income analysis, and a go or no-go recommendation. That's a lot of valuable information, but it lacks a psychographic analysis.
Demographics are comprised of statistical data related to a market's population, providing insight to the number of people in the area and their ages, family status, level of education and income, as well as housing types, the average age and value of property, and more. In contrast, psychographic data classifies the people within a market according to their attitudes, aspirations and other psychological criteria. While demographics are invaluable in determining the financial feasibility of a site, psychographic data helps differentiate between a good location and a great one.
The key difference is understanding who's residing within your market besides factual population data at an aggregate level. For one, psychographic data describes the personalities, values, opinions, attitudes, interests and lifestyles of potential customers. Second, the information is available at the household level. It's possible for demographic information from two areas to be similar, while the psychographics and purchasing patterns within them can be vastly different. A great starting point is to compare the tenants at existing self-storage properties with the population in the area.
Psychographic Profiles
Depending on the data provider, there are 60 to 80 psychographic profiles. In addition to location type (rural vs. urban), these vary based on income, education, socio-economic group, age, children at home, and other factors. Different groups have distinct purchasing and spending preferences, as well as varying political preferences.
A good starting point for existing self-storage operators is to compare tenant information against the psychographic profile types of the area population. You'll find that certain groups are far more likely to use self-storage than the average household.
To understand how this works, let's consider five hypothetical psychographic groups and their propensity to rent self-storage:
Type A: 500%
Type B : 200%
Type C : 100%
Type D: 50%
Type E: 20%
These are just for illustrative purposes. In real-world scenario, there would likely be about 70 profiles. However, the range of 500 percent above average to 20 percent below average is typical of household propensity to use a product or service within a geographic area.
According to most economists, it is necessary that how a government imposes taxes is just as necessary as how much it collects.
Tax foundation tries to seek more attention to the above principle by publishing State Business Tax Climate Index, to compare the usefulness of tax policies between the states, in order to promote growth and business investments.
Taxes in Texas and the policies were evaluated and given the 13th position, which doesn't changed from the last year. This is not bad, but it disappoints the Texas taxpayers other than corporates and personal property taxes.
Raising taxes in Texas will not allow to pierce through the top 10 positions, until the state floats on a whooping property taxes, high sales tax and a futile business tax. Texas taxpayers, especially who owns a business is affected with the poor tax system.
According to Tax Foundation, taxation is unavoidable, but the particulars of the tax structure matters. As per records, states those follows a sensible tax system will attract more new businesses, and will stay in a clear path for economic and employment growth. For example, states like New York and New Jersey with huge taxation ranks the lowest. But Wyoming and Alaska, without income taxes ranks highest.
As reported by Tax Foundation, Margin taxes in Texas is considered as a reputation killer, which is considered as the worst business tax after Delaware's Manufacturers' and Merchants' License Tax. Since the limited liability corporation pays the margin tax unlike other companies that passes the profits to the members, margin taxes in Texas has become an indirect income, and this will resist Texas to come forward in terms of ranking.
Margin taxes are levied based on a company's gross receipts, or the revenue made by the company in the last financial year. Economists are against the margin taxes, as they are not based on pure profits or total income. Businesses that are losing money may actually end up in paying taxes. Margin taxes are actually originated in 2007 to fix the finance system of schools. School property taxes has reached the highest and the Supreme Court of Texas has declared it as unconstitutional.
Lawmakers, in an eagerness to evade income taxes, has chosen to revamp the little franchise tax charged by Texas for doing a business. By the time, Legislators were in need of $ 10 billion to be transferred to school districts, to cut property taxes.
Government allows bookkeepers (accountants) to calculate a company's margin using any one of the four methods. Accountants usually uses all the four and finds one that generates least tax. The margin tax however didn't turn up with expected money, created budget shortfalls. Several attempts were made to eradicate margin tax, but lawmakers do not want to replace the income lost with some other terms, as they may blamed because of increased taxes in other areas.
When property tax, Lt. Gov. is taken into account, Dan Patrick tried to help the homeowners, but no help offered towards business in Texas, which made Texas to be pushed to 37th in ranking which made it worst.
Texas Taxpayers who owns a business pay 100 percent value of the inventory (most states don't tax on inventory), putting a big burden to the retail business owners.
Taxation is unavoidable, but "how taxation is done, and on what" matters a lot. To be general, government should never tax for the things it wants to develop or encourage, and should tax heavily to the things it wants to stop. Texas tax system is almost broken and seriously needs an overhaul.
Property tax in Texas has a tendency to be confusing for many of its residents. If you have ever had to pay property tax in the state, then you probably have a basic understanding of all the hoops you have to jump through and all the deadlines and dates you have to keep in mind. In Texas, January 1st is not just the beginning of a new year. It also marks the opening of important time periods in the property tax world. From appraisals to exemptions, January 1st is an important date to keep in mind.
The Attachment of Tax Liens
According to the website for the Texas Comptroller of Public Accounts, January 1st marks the date when every property throughout the state is attached to a tax lien.
These tax liens effectively make it so that the owners of the properties are liable for tax payments, interest, and any penalties incurred in the upcoming tax year. The lien itself is not a bill or a payment notice. Instead, it indicates that the owner of the property as of January 1st of a certain year will have to pay all property taxes and other payments for that year.
The Date of Appraisals
The Texas Comptroller of Public Accounts also indicates that January 1st marks the beginning of property appraisals. These appraisals will be carried out by the county appraisal district where each property is located. For instance, the Aransas County Appraisal District will begin the appraisal process on January 1st for all properties within its jurisdiction.
The appraisal of the value of a property determines how much the owner will have to pay in property taxes. Each appraisal district has different methods of appraisal, but they all collect data to make the most informed valuation that they can.
**January 1, 2018 is especially important for those affected by Hurricane Harvey.
This date marks the date of a property's re-appraisal. If your house or commercial property flooded, and you do not call the appraisal district, and you do not appeal your property taxes in 2018, your property will be valued as though it did not flood.
If you were flooded by Hurricane Harvey, you need to contact the appraisal district and inform them of your property damages. O'Connor can help with this. We are used to dealing with the Appraisal Districts and can ease the burden on those homeowners affected by the storm. It's a 3-fold effort to inform the appraisal districts, click here to learn more.
Start of Exemption Period
One of the most important things about January 1st is the opening of the exemption filing period. There are numerous exemptions that property owners can apply for, but the most common is a "homestead exemption." In basic terms, homestead exemptions allow homeowners to pay a smaller amount in property tax given the right circumstances. For instance, homeowners can receive exemptions if they pay school or county taxes. Homeowners can also receive exemptions if they are over 65 and/or disabled.
It's important to apply for exemptions early on because the appraisal district begins processing and reviewing applications early on. If your exemption is declined, then you can always appeal the decision of the appraisal district. Property owners have until April 30th to apply for property tax exemptions.
In the end, January 1st might not be the most important day in the lives of most residents of Texas, but it can be an important marker for all property owners in the state. Typically, no action is required on January 1st, unless you want to apply for exemptions. Even so, the state of the property, current ownership, and the property's use on January 1st all affect how the property will be appraised and valued in the upcoming year.
If you need more information regarding the January 1st deadline, contact O'Connor today. One of our property tax experts will answer any question you may have.