Brazoria County property tax contests completed as of end of June 2023, have benefited Brazoria County property owners, managing to save them about $28 million.
Given that The Brazoria County Appraisal District provides the most recent and original tax rolls, O'Connor was able to compile this data and assemble analysis. The district is in charge of determining the annual market value of both real estate and personal property in Brazoria County. Property owners have the option to challenge the values every year, regardless of whether the value has increased or decreased.
Brazoria County property tax protests will likely result in overall property tax savings of about $62 million by the end of 2023 appeal hearings. Forecasting is based on a study of information about recent property tax reductions from Brazoria County Property Tax Trends.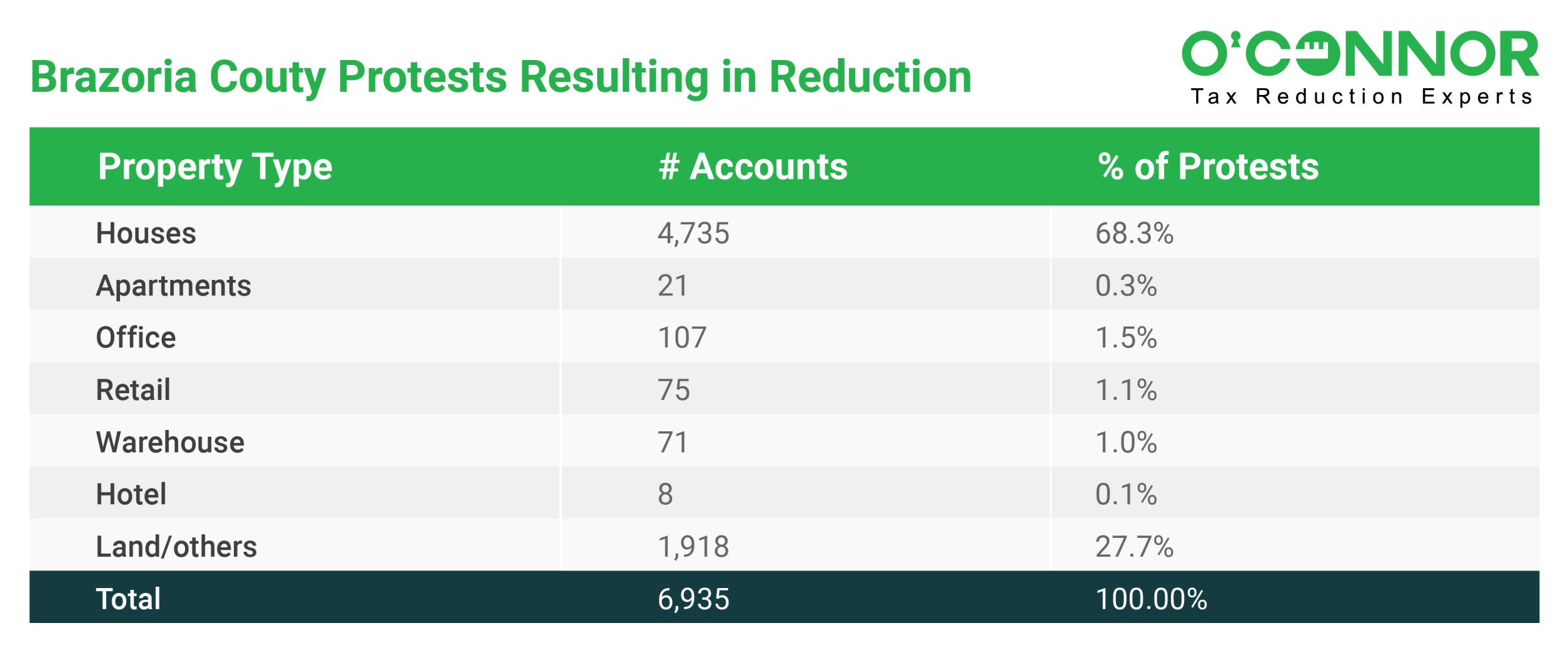 The homeowners in Brazoria County saved $6.8 million in property taxes in 2023, which was the second-highest total. The Brazoria County Appraisal District reports that 4,735 residential valuations had been decreased in preparation for tax protests in 2023. Based on a 2.7% tax rate minus homestead exemptions, the average assessment decrease is $53,882 and results in a $1,455 average reduction in property taxes.
The initial value of $85 million for multi-family complex owners' tax complaints was reduced to $62 million, saving $23 million in tax assessments. Considering a tax rate of 2.7%, the total property tax savings for apartment owners this year are anticipated to be $1.1 million. Complexes had the second-highest number of tax protests in Brazoria County, with an average reduction of 27% and an estimated property tax savings of $29,903 per apartment tax protest. This includes hearing outcomes for 21 apartments in 2023.
The biggest sum in terms of both reduced value savings and property tax savings was achieved by the Brazoria County commercial property type land/others. The reduced value savings are $720 million, and the tax savings total $19 million thus far. The smallest percentage assessment reduction is for Brazoria County's land and other properties, at only 3%. The $24 billion starting value decreased to $23 billion. Based on a 2.7% tax rate, the total savings per tax parcel come to $10,148.
The assessed value of hotels that were protested was effectively decreased from $15 million to $9 million by hotel owners. With a 2.7% tax rate, this resulted in a $5.4 million tax assessment reduction and a tax savings of $147,953. This includes the outcomes of the property tax hearings for a total of 8 hotels, with an average savings in property taxes of $18,494 for cases concluded in 2023 with reductions. At 36.3% YTD for protests with a reduction, hotel tax property tax demonstrations have experienced the biggest percentage decline.
With 107 business building tax protests settled thus far in Brazoria County, owners have saved a combined total of $465,625 in property taxes. The initial $76 million valuation has been decreased to $58 million, resulting in a $17 million tax assessment reduction. Using a tax rate of 2.7%, the average savings on property taxes was $4,352. When office tax objections are settled with a decrease, the percentage assessment reduction for office buildings is 22.7%.
Brazoria County resolved tax protests in 2023, resulting in a reduction of an average of $2,105 in tax savings per property objected with 6,935 properties and a $26.1 billion assessed value down to $25 billion, or a 4.05% average reduction.
Apartments with the largest 2023 property tax assessment reduction include the following:
The property tax assessment for the Kings Road Apartments, located at 401 S Brazosport Blvd in Freeport, Texas, decreased by $8 million from $12 million to $4 million. Based on a 2.7% tax rate, this tax assessment reduction lowers their property taxes by $216 million.
The initial property tax assessment on the Olde Oaks Apartments, which are located at 140 Lakeview Drive in Clute, Texas, was reduced from $6.9 million to $3.2 million, a decrease of $3.7 million. In 2023, the proprietor of Olde Oaks Apartments will save $100,503. The property taxes for this apartment building, constructed in 1974, were cut by 53%.
Taxes for the property owner of Northside Plaza Apartments were lowered by $98,365. A $3.6 million decrease in the 2023 property tax assessment resulted in the initial $5 million 2023 property tax assessment being reduced to $1.4 million. At 1753 E Henderson Rd in Angleton, Texas, this structure, which was constructed in 1994, is located.
The Brazoria County Appraisal District has over 65 professionals whose job is to value real estate for Brazoria County. The previously mentioned examples above emphasize the substantial possibilities for property tax reductions offered by the property tax appeal procedure.
The reduction in the 2023 property tax assessment is calculated by comparing the baseline values provided by the Brazoria County Appraisal District with the most current 2023 tax assessments. This information excludes properties that were protested but received no reduction, which raises the average decrease.
Property owners are recommended to carefully examine their annual property tax assessments and protests every year. Numerous Brazoria County property tax protests submitted in a normal year may be successful.