The property owners who have successfully disputed their 2023 valuations, and the property tax appeals they filed resulted in savings of nearly $64 million as of end of June 2023.
For owners in Fort Bend County, the Fort Bend Central Appraisal District yearly offers market values for real estate and company personal property. Regardless of whether the value increases, property owners have the right to lawfully contest the county assessment. O'Connor based the following data on the initial and most recent tax rolls given by Ford Bend Central Appraisal District.
Observing the outcomes from prior years as seen on Fort Bend County Property Tax Trends, we can project an estimate of where final values will land. According to O'Connor, Fort Bend County property tax protests will save property owners a total of $137 million in property taxes by 2023.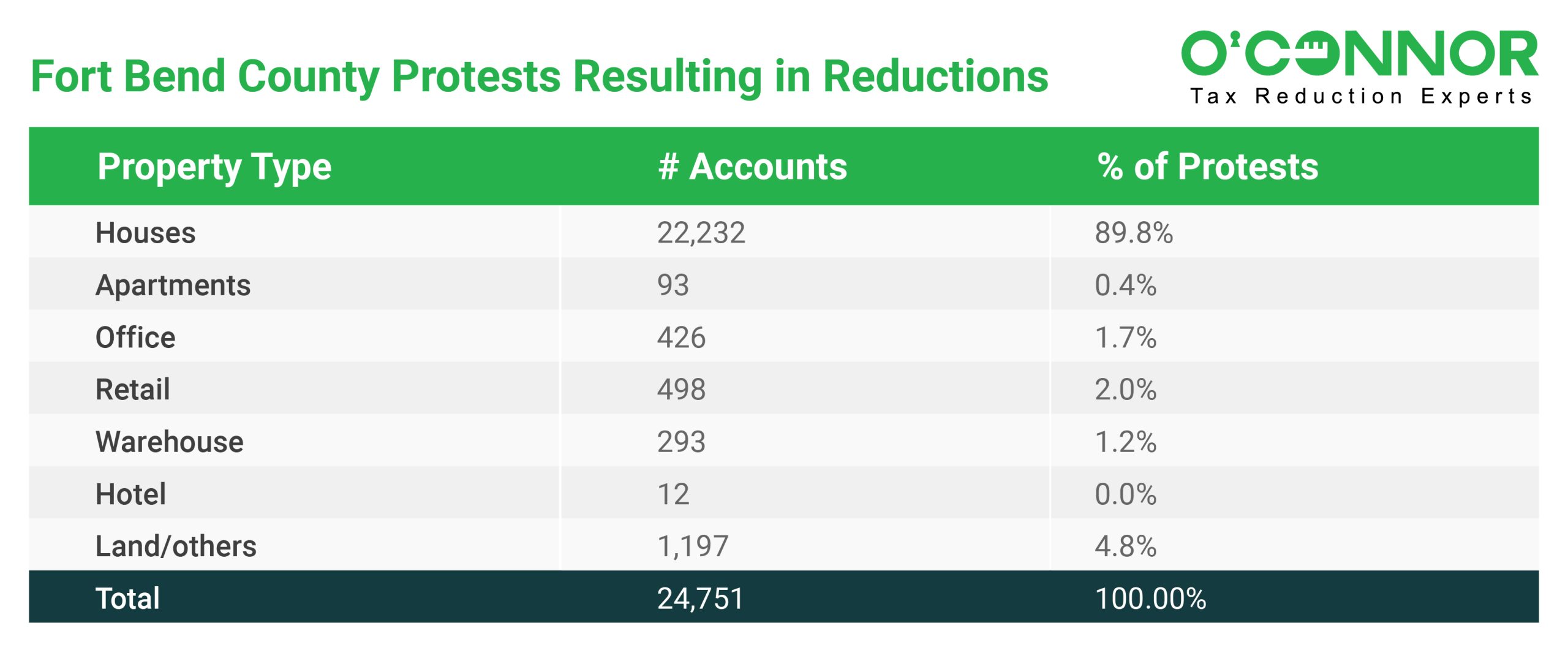 Through property tax protests for 2023, Fort Bend County residential property owners have already saved close to $17 million. In response to tax protests in 2023, the Fort Bend Central Appraisal District has decreased valuations for 22,232 homes. Based on a 2.7% tax rate and ignoring homestead exemptions, the average reduction in assessed value is $29,705, providing a $802 average reduction in property taxes.
Owners of apartment buildings appealed as of June 2023 saw the second-largest total property tax savings of all Fort Bend property types for 2023, and the largest savings per tax protest among owners of commercial property. For apartment property complaints that have already been settled in 2023, initial assessments of $2 billion have fallen to $1.6 billion. This results in a $430 million reduction in the tax assessments. Based on a tax rate of 2.7%, Fort Bend County apartment owners have saved a total of $11 million in property taxes so far this year!
Fort Bend County land and miscellaneous property type has concluded 1,197 hearings tfhus far in 2023, resulting in a $388 million original valuation being reduced to $133 million, which represents the highest percentage reduction of any type of commercial property achieved in 2023. Based on a 2.7% tax rate, the owners will save almost $5.5 million in taxes overall, or $4,628 per tax parcel.
For protests with a decrease, the average protest reduction is 14.5% for Fort Bend hotel property taxes. This includes the outcomes of 12 hotel property tax hearings, which resulted in average property tax savings of $297,317 per hotel for proceedings that were concluded in 2023 with reductions.
Office building owners in Fort Bend County will save the fourth most money overall on property taxes in 2023. Their property tax savings for the 426 office building appeals that have been resolved thus far this tax year total $9.6 million. Office property valued at $1.2 billion was reduced by $357 million to $899 million for 2023. There is a 28.4% discount for office tax protests that result in a decrease. Property tax savings amount to an average of $22,664 per account at a tax rate of 2.7%.
Property owners in Fort Bend County have resolved tax appeals for 24,751 properties in 2023, bringing the initial assessed value down from $16.5 billion to $14 billion, or an average reduction of $8.6 billion. When objections for residential and commercial properties are included, the average tax savings per objected-to property is $232,481.
Apartments with the largest 2023 property tax assessment reduction include the following:
By lowering their original property tax assessment from $86.8 million to $48.4 million a $38.3 million reduction the owner of the Cendana District West Apartments will save $10.3 million in 2023. This apartment building received a 44% property tax reduction.
The owner of the Telfair Lofts, located at 7500 Branford PL in Sugar Land, Texas, decreased the building's property tax assessment from $85 million to $58 million, a reduction of $27 million or 31%. Based on a 2.7% tax rate, this tax assessment reduction lowers their property taxes by $729 million.
Enclave At Woodbridge apartment owners cut their property taxes by 33%, or $532 million. A $19.7 million decrease in the 2023 property tax assessment brought the initial $58.7 million assessment down to $39 million. This building, which has 348 units over 3 stories and is situated at 15015 W Airport Blvd in Sugar Land, Texas, was constructed in 2001.
Every property owner in Texas, whether residential or commercial, can take advantage of this process without any minimum property value needed to file an appeal. Fort Bend Central Appraisal District has a team of 144 experts who are in charge of evaluating properties in Fort Bend County. These instances clearly demonstrate the significant opportunity to obtain reductions in property taxes by going through the appeal procedure.
The analysis presented in this article is based on a comparison between Fort Bend County's original 2023 tax year appraisal values and Fort Bend County's most recent 2023 tax assessment. The properties that were appealed without receiving a reduction are not included in this report. Around 21.9% of the tax properties in Fort Bend County plan to appeal. Out of the $387 million in total tax parcels in the county, that amounts to around 84,679 protests.
More than half of all Fort Bend County property tax appeals result in a reduction each year. It is strongly advised for property owners to carefully review their annual property tax assessments and file an appeal every year.