The short answer is it appears two-thirds of Bexar County homeowners will pay property taxes above and beyond that which is appropriate. Detailed and comprehensive analysis reveals the following: 1) the typical home in Bexar County is over-valued by about $15,267 and 2) 67% of houses in Bexar County are valued in excess of 100%.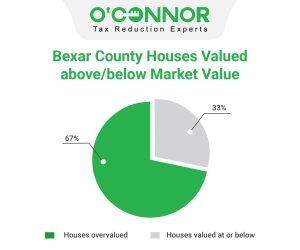 What can you do? Protest on your own or hire us if you don't have time to protest.
Warning – if you do not protest, it is likely you will pay an extra $400+ in property taxes this year.
Most protests are successful and there is no flat fee, no upfront cost and never, ever a fee unless we reduce your property taxes that year. There are no "market value" cuts, which most of our peers charge for even though the property owner does not benefit.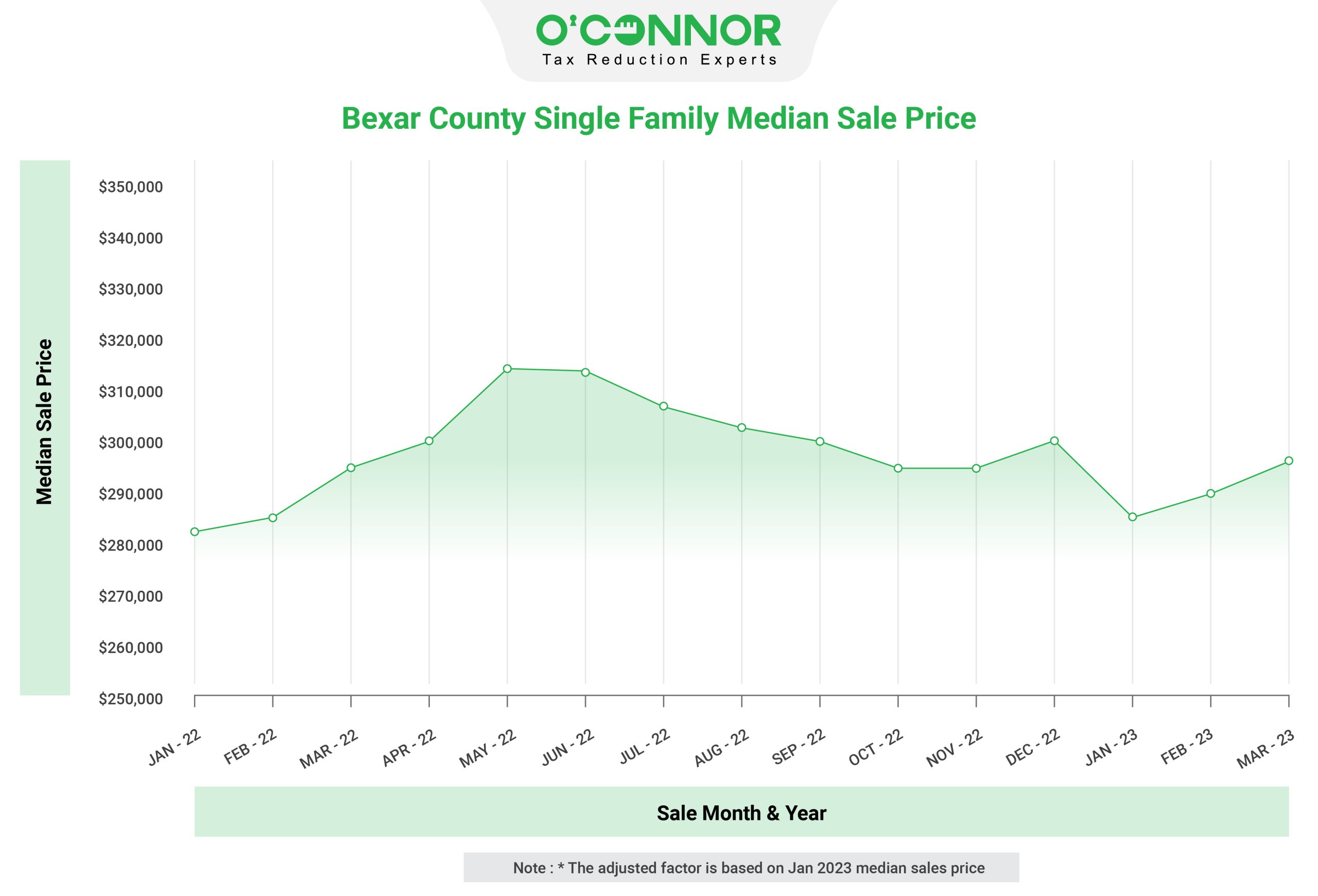 The median level of assessment of homes in Bexar County for 2023 is $297,340, based on a sample of over 28,000 houses.
The median time-adjusted sales price was $282,073, more than $15,000 lower than the median assessed value.
The median level of assessment for Bexar County homes is 105.4% of the sale value.
Based on a tax rate of 2.7%, and assuming no appeals or exemptions, the typical Bexar County property owner will pay $412 in extra property taxes beyond the level dictated by Texas Statute. ($297,340 median assessment – $282,073 median time adjusted sales price= $15,267 x 0.027 = $412)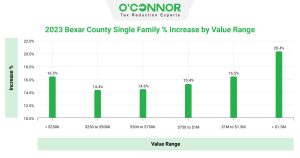 Bexar County Single Family homes facing the greatest increase are those in the value range of $1.5M or higher, with an assessment increase of 20.4%.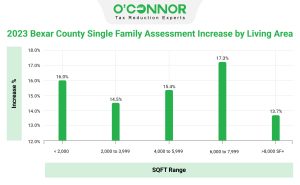 When evaluating assessment increases by the size of Bexar County homes, property within the range of 6,000 to 7,999 sq ft are hit the hardest with an increase of 17.3%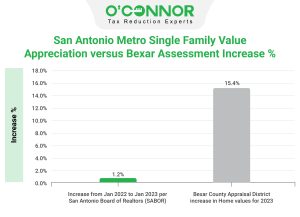 When comparing the sales values for the past year based on data from the San Antonio Board of Realtors® with the 2023 appraisal values for Bexar County, there is a gap of more than 14%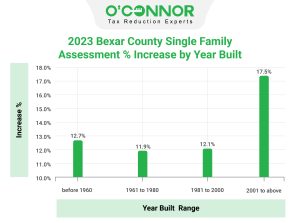 The highest jump in single family home assessments is seen in newer homes, built in 2001 or later, with an increased assessment of 17.5%.
Not only are assessments rising for Bexar County homeowners, but commercial property owners are feeling the pain too. Bexar County commercial property values are showing an increase in 21.9% when based on the Green Street Commercial Property Price Index, published April 6, 2023, commercial property values have declined by 15%.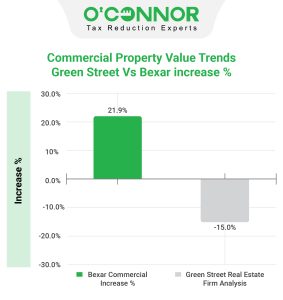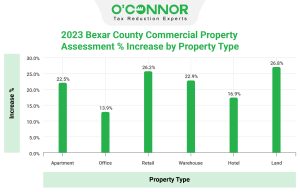 All types of commercial property are climbing in assessment value with Land, Retail, and Warehouse properties having the greatest assessment increase at 26.8, 26.2, and 22.9% respectively, in Bexar County.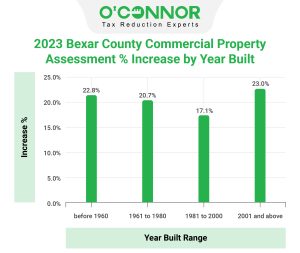 Bexar County commercial property of all ages is affected by the increases, with the most substantial rise for commercial property constructed in 2001 and later.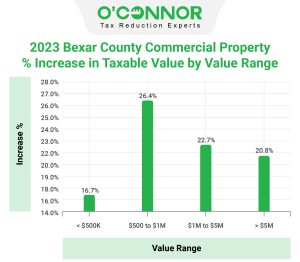 Commercial property valued between $500K and $1M are feeling the brunt of the surge, with an assessment value increase of 26.4%, although properties valued higher than $1M are still between 20.8 and 22.7% increase.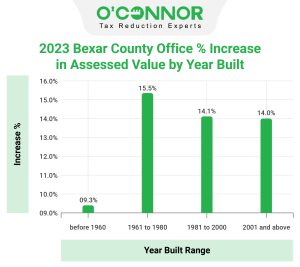 Most commercial office buildings in Bexar County have assessment increases over 14%, with property built between 1961 and 1980 showing the highest increase for any year built range at 15.5%.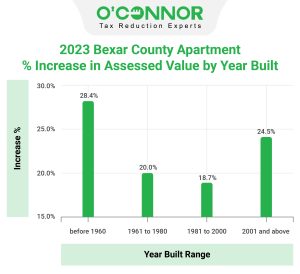 Apartment properties run counter trend with the highest percent of assessment increase for this property type occurring in older property built before 1960, with an increase in assessment of 28.4%.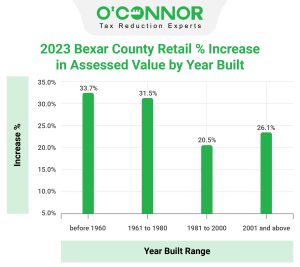 Retail property built before 1960 have a 33.7% increase and retail property from between 1961 to 1980 is following closely with an increase of 31.5%.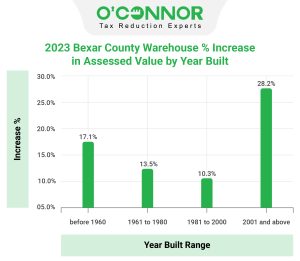 When evaluating warehouses, we see them more in line with the overall trend for commercial property increase, with the greatest assessment percent increase for construction in 2001 and later.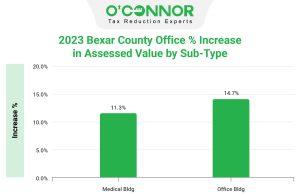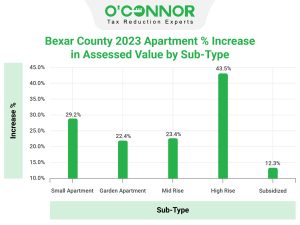 Bexar County apartment assessment increases are the highest for high rise properties with a 43.5% increase. Subsidized apartments saw the least amount of increase in assessed value, but were still up 12.3%.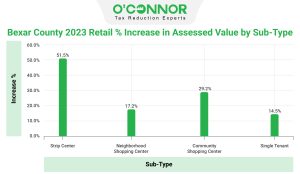 Strip center properties in Bexar County were in the lead by far with an astounding 51.5% increase in assessed value. Other retail property sub-types ranged from 14.5 to 29.2% increase in assessed value.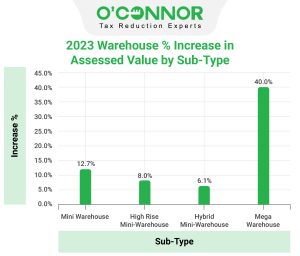 Of all warehouse sub-types, the mega warehouse shows the steepest climb in assessed value for Bexar County in 2023 at 40%. Other types of warehouses increased in assessed value by 6.1 to 12.7%
If you are a property owner in Bexar county, you do not have to accept the new appraisal value, it is your right to appeal. Don't pay more than your fair share. Record levels of property tax protest are expected to follow. The deadline to file a property tax protest is May 15th.
About O'Connor:
O'Connor is among the largest property tax consulting firms in the United States, providing residential property tax reduction services in Texas, Illinois, and Georgia, as well as commercial property tax reduction services across the United States. O'Connor's team of professionals possess the resources and market expertise in the areas of property tax, cost segregation, commercial and residential real estate appraisals. The firm was founded in 1974 and employs more than 600 professionals worldwide. O'Connor's core focus is enriching the lives of property owners through cost effective tax reduction.
Property owners interested in assistance appealing their assessment can enroll in O'Connor's Property Tax Protection Program ™ . There is no upfront fee, or any fee unless we reduce your property taxes, and easy online enrollment only takes 2 to 3 minutes.