Collin County residents who own property have been able to save close to $242 million as a direct consequence of 2023 property tax challenges.
The yearly market value estimation of real estate and personal property in Collin County is the responsibility of Collin Central Appraisal District. Regardless of whether such valuations are increased or decreased, property owners have the ability to challenge them annually. O'Connor was able to compile this data thanks to the Collin Central Appraisal District's original and tax rolls available as of the end of June 2023.
Based on the review of facts regarding property tax savings from recent years as published on Collin County Property Tax Trends, O'Connor anticipates that the overall 2023 property tax savings as an outcome of Collin County property tax protests will surpass the $157 million the Texas Comptroller's office has reported as saved in 2021 by a significant margin. (the most current values released).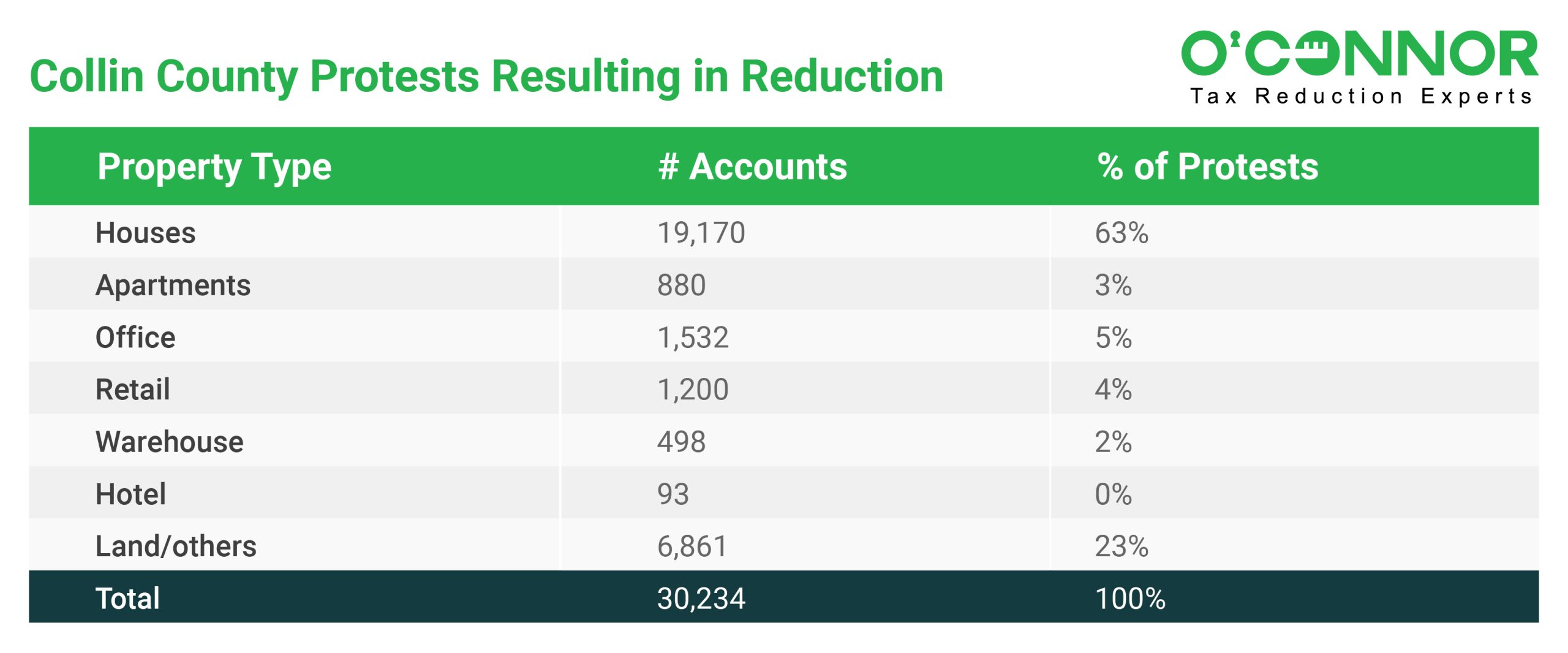 Property tax appeals in 2023 have helped save homeowners over $30 million. According to the Collin Central Appraisal District, appraisals for 19,170 homes have been decreased due to tax appeals within 2023. Based on a 2.7% tax rate and excluding homestead exemptions, an average assessment decrease of $57,986 results in a $1,566 average reduction in property taxes.
Those with the greatest overall property tax savings and the largest savings per tax protest are apartment owners in Collin County. The value of the settled apartment tax disputes in 2023 has dropped from $19.7 billion to $16.1 billion, resulting in a $3.6 billion reduction in tax assessments. Based on a tax rate of 2.7%, the current annual property tax savings for commercial property owners of apartments based on hearings complete as of the end of June 2023 are anticipated to be around $97 million. In Collin County, the average reduction in apartment tax challenges was 18.2%, saving homeowners an estimated $110,437 in property taxes. This covers the outcomes of 880 apartment hearings from 2023.
For property categorized as land and other, the assessment decrease with the highest percentage of reduced value for Collin County commercial property tax challenges is 57.8%. This is considering the appeals involving 6,861 tax protests. An initial $3.2 billion valuation was drastically reduced to $1.38 billion. Based on a 2.7% tax rate, the overall tax savings for these owners come to almost $51 million, or $7,448 per tax parcel.
The assessed value of hotels that were protested was effectively lowered from $903 million to $757 million by hotel owners. Due to this, the tax assessment was reduced by $145 million, resulting in a $3.9 million tax savings at a tax rate of 2.7%. This comprises the outcomes of 93 hotel property tax hearings, which resulted in average property tax savings of $42,310 per hotel for cases that were finished in 2023 by end of June and resulted in reductions. For protests that resulted in a reduction in the hotel tax, the yearly average drop in percentage is 16.1%.
In Collin County, 1,532 office building tax protests have been settled, saving the owners of those buildings a combined $31.9 million in property taxes. The initial $14.7 billion valuation has been decreased to $13.6 billion, resulting in a $1.18 billion tax assessment reduction. Based on a 2.7% tax rate, savings from property taxes were on average $20,838. For office tax protests that are successfully resolved with a decrease, there is an 8% assessment reduction for office buildings.
Tax challenges by property owners in Collin County resulted in reductions for 30,234 properties in 2023, bringing the county's original assessed value down from $58.9 billion to $49.9 billion, a 15% average drop. The average tax savings per objected property, including both residential and commercial properties, is $8,008.48.
Apartments with the largest 2023 property tax assessment reduction include the following:
The proprietor of Northside Apartments 4-SL, located at 800 Cecil Dr. in Richardson, Texas, succeeded in lowering the property's assessed value from $130 million to $70.3 million for the purposes of calculating property taxes. Based on a tax rate of 2.7%, this substantial decrease of $60.5 million results in a proportionate savings of $1.6 million in property taxes.
By lowering their original property tax assessment from $103 million to $51.6 million, or a $51.6 million decrease, the owner of MAA Market Center apartments would save $1.39 million in 2023. This 2012-built apartment complex received a 50% property tax decrease.
Property taxes at the Highland Springs by Erickson Senior Living units were reduced by $4 million by the owners. The initial 2023 property tax assessment of $145 million has been reduced by $40 million to $105 million. This structure was built in 2006 and is situated at 8000 Frankford Road, Dallas, Texas 75252.
More than 140 employees work at the Collin Central Appraisal District, which values properties in Collin County. The cases mentioned above serve as examples of the significant property tax reduction potential made available by the property tax appeal process.
In Collin County, on average every year, more than 60% to 70% of property tax appeals are successful. Owners of real estate should carefully analyze their yearly property tax assessments and file an appeal each year.